Click here to listen to a reading of this blog:
THIS Book review HAS BEEN SPONSORED BY THE BOOK'S AUTHOR. ALTHOUGH AS ALWAYS, ALL THOUGHTS AND OPINIONS ARE MY OWN.
The book Seven Steps to Heal Your Thyroid: A proven plan to Increase Energy, Elevate Mood & Optimize Weight has been on my radar for quite a while. As someone that has hypothyroidism and Hashimoto's, and has recovered from the effects of these thanks to a holistic approach to my health, I appreciate books that guide others on how to do the same.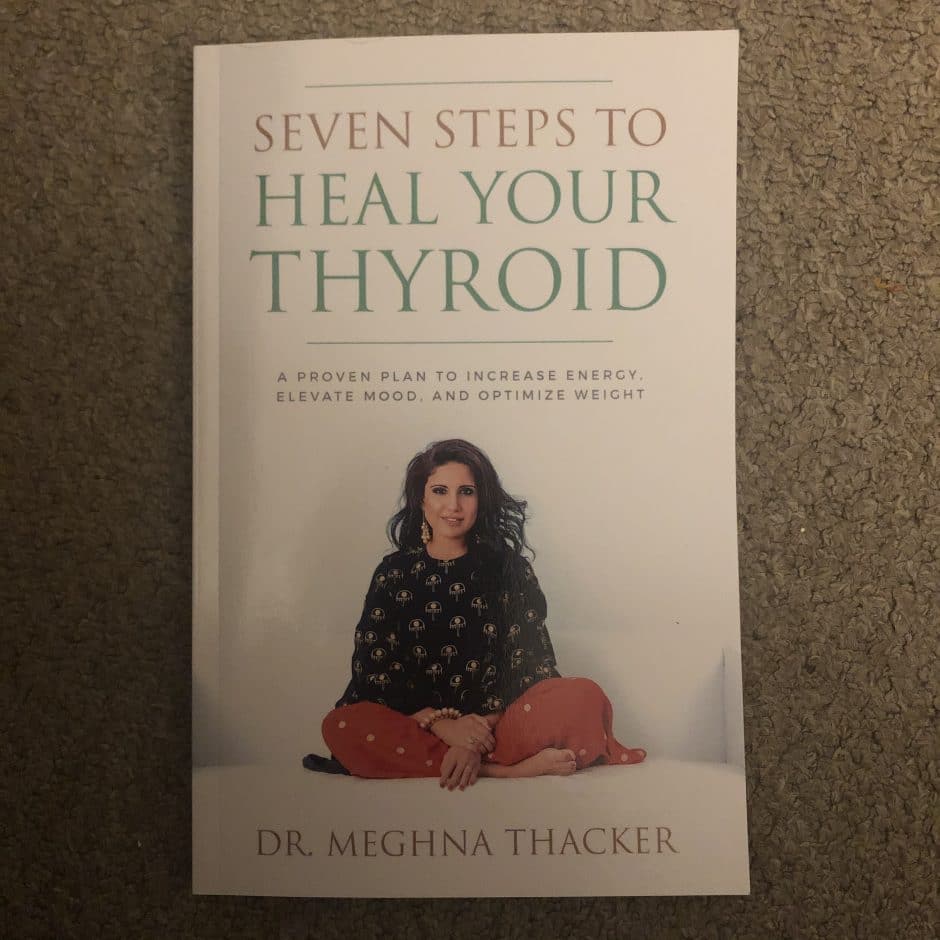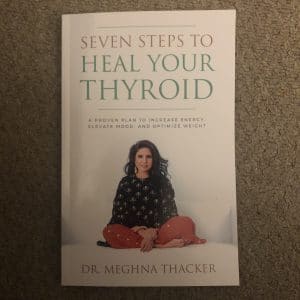 This book really is fully holistic.
Dr. Thacker believes in every patient being unique and that because of this, treatment really must be individualised too. 
I may reference back to this book and what I've learnt from it throughout my blog posts.
Dr. Thacker writes with a relatable approach to thyroid issues. Starting the book with her personal experiences, she explains how her Hashimoto's was triggered by stress while studying, working multiple jobs and juggling difficult relationships. This later progressed to hypothyroidism following the birth of her son, so she naturally became curious about recovering from her thyroid condition and discovered a passion to help others in this way too.
Although a doctor, she is relatable and down to earth in her writing style, which made this book easy to read in just two sittings. Her own story and experiences of thyroid disease are woven throughout the guidance for treating and managing.
The seven steps (and respective chapters) covered in this book are:
Understanding Your Thyroid
Naturopathic Treatments
Heal Your Gut
Reduce Toxic Environmental Exposure
Balance Your Hormones
Emotional Healing
The Whole Picture
The first step, Understanding Your Thyroid, is crucial before learning about treatments. It covers the different types of thyroid disease, what testing you should be having done and what results to aim for. Her information on optimal thyroid levels aligned with what I and many other thyroid advocates, progressive practitioners and organisations promote. She also made the point that lab ranges differ from country to country and lab to lab, which is also something I make a point to say but don't see anywhere else – so this was really refreshing.
The Naturopathic Treatments section discusses the different types of thyroid medication options, as well as natural support. Micronutrient testing – testing that tells you what supplements your body needs – was also interesting to read about. As Dr. Thacker says at the start of this section "wouldn't it be nice if you could just know which supplement your body needs so you don't have to take so many?"
The use of Thyrotrophin PMG in lowering thyroid antibodies (Hashimoto's) is also covered, which I'd not actually heard of before. Detailed information on supplements, what they can help with and dosage was also present.  There was an ad for her own line of supplements included, but I see this in so many books written by doctors these days that it didn't phase me.
The third step covered personalised testing for discovering which foods you are personally sensitive to (i.e. causing symptoms) and reiterates that each person is unique, so there isn't a one-diet-works-for-all.  The information on gut health healing was very comprehensive and I was nodding along to it all as my own functional medicine practitioner did a lot of these protocols with me and they helped me recover much of my health.
The fourth step covers how to eat healthily whilst also avoiding toxins which can interfere with thyroid function and how you feel.
The fifth step looked at other hormonal imbalances that often come hand in hand with thyroid ones, such as the menopause (including treatment) and adrenal health.
I particularly liked the sixth section which talked about identifying whether you're an empath – as I am a HSP and this has been a huge part of better managing my mental health with a thyroid condition too. This is yet another topic you just don't see covered in any many other thyroid books.
The final section recaps on everything and reiterates a lot of the key themes.
Overall, I found that I do an awful lot of what is covered in this book and I can vouch that these approaches have made a dramatic improvement to my quality of life with autoimmune hypothyroidism. Although I was gifted a free eBook copy, I actually went out and bought a paperback copy to add to my own personal library of thyroid books because I found it so useful to reference back to.
You can get a copy of this book from Amazon on the link below.
Have you read this book? What did you think?