Click here to listen to a reading of this blog:
Exciting news, my book is finally here! New to learning about your thyroid health? Learn why it's important to be your own health advocate in my book now.
Available on Amazon
The 10th October is World Mental Health Day, a great day to show your support towards better mental health knowledge and awareness, and to learn how you can promote well-being in yourself and others.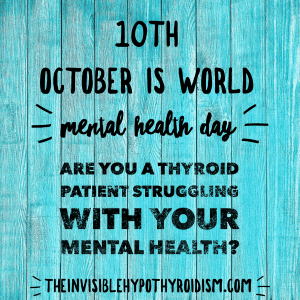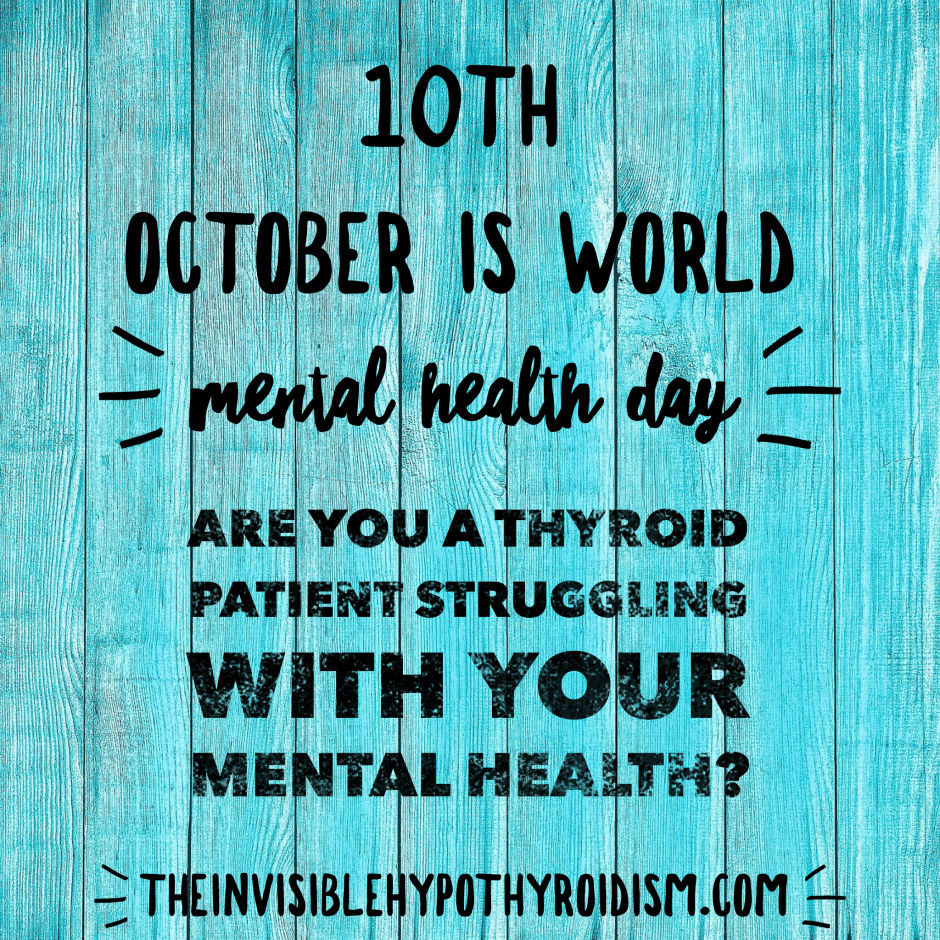 Mental health problems have affected 1 in 4 people in the past year and if you have hypothyroidism, then this rises to 1 in 2 hypothyroidism patients being on antidepressants. I've written about mental health and thyroid disease many times on my blog, so I want to take today to link you to those all-important blogs and resources.
To understand how your poor mental health could actually be being caused by your thyroid health, please read this article: Mental Health and Your Thyroid and Adrenals
To read real life stories about thyroid patients struggling with poor mental health, see this article: Thyroid Patients Explain The Devastating Effects on Their Mental Health
For ideas on how you can promote well-being, see this article: Simple Ways You Can Practise Self-care
To read the open letter I wrote, that every thyroid patient struggling needs to read, see this article: An Open Letter: "Dear Hypothyroid Patient"
And to see one of my most popular mental health blogs, all about my personal experience of coming out the other side of depression, please see this article: "Just Keep Swimming" – Depression and Hypothyroidism
As always, I strongly believe that the link between thyroid conditions and mental health needs repeating until the general public and even doctors are aware of the importance.
Depression and Hypothyroidism
As the below video talks about, it has been estimated that as many as 30-50% of people on antidepressants with have undiagnosed hypothyroidism. And that's potentially a huge amount!
Because of this, I always recommend that anyone with mental health struggles is screened for a thyroid condition.
And once screened, you must ensure that your thyroid levels are optimal to rule it out.
Anxiety and Thyroid Conditions 
Anxiety also often occurs alongside a thyroid condition. Hyperthyroidism, when the thyroid produces too much hormone, can cause anxiety as the body's processes are ramped up, but what complicates things further is that hypothyroidism can still lead to anxiety as the autoimmune disease behind it causes anxiety (and hyper moments) when it is destroying thyroid function.
As the destruction of the thyroid gland occurs, thyroid levels can move up and down fluctuating between hypo and hyperthyroidism, causing people to swing between hypo and hyper symptoms. From the heavy fatigue and depression of hypothyroidism to the anxiety and increase in energy from hyperthyroidism, the autoimmune disease responsible for around 90% of hypothyroidism cases can also be the reason behind a bi-polar or anxiety diagnosis.
You can click on the hyperlinks in the above post to learn more and see references to information given.
***
As someone currently struggling with their mental health as I experience another flare up of my chronic illnesses, I just want to mention that if you can take a few minutes today to check in on a friend, do something thoughtful for someone who needs it or educate yourself on mental health conditions, then please do. As someone who has a lot of experience with mental health conditions, I'm telling you we need to make more of an effort.
We need more people to be more aware of the effects of mental health and remove the stigma that stops so many people from talking about it.
If you're struggling with your mental health right now, please know that it's OK to talk about it, it's OK to do things at your own pace, it's OK to feel how you feel and it's OK to ask for help. Whether you reach out to a friend, family member or local mental health charity, please know that you are not alone.
---
Written by Rachel, The Invisible Hypothyroidism
Social
Community