Click here to listen to a reading of this blog:
This book explains Hypothyroidism in an easy-to-understand way and covers why you may not be seeing any improvements since being put on T4 only medicine, e.g. Synthroid, Levoxyl, Levothyroxine. It also covers how to read test results, information on safely switching to NDT, adrenal fatigue and how to talk to your doctor.
I'll reference back to this book and what I've learnt from it throughout my blog posts.
After following the Stop The Thyroid Madness Facebook page, referring a lot to the ever-helpful website and reading the great reviews for the book on Amazon, I decided to go for it and order it. It would be the first book I'd ever bought concerning my underactive thyroid, and it is still my favourite.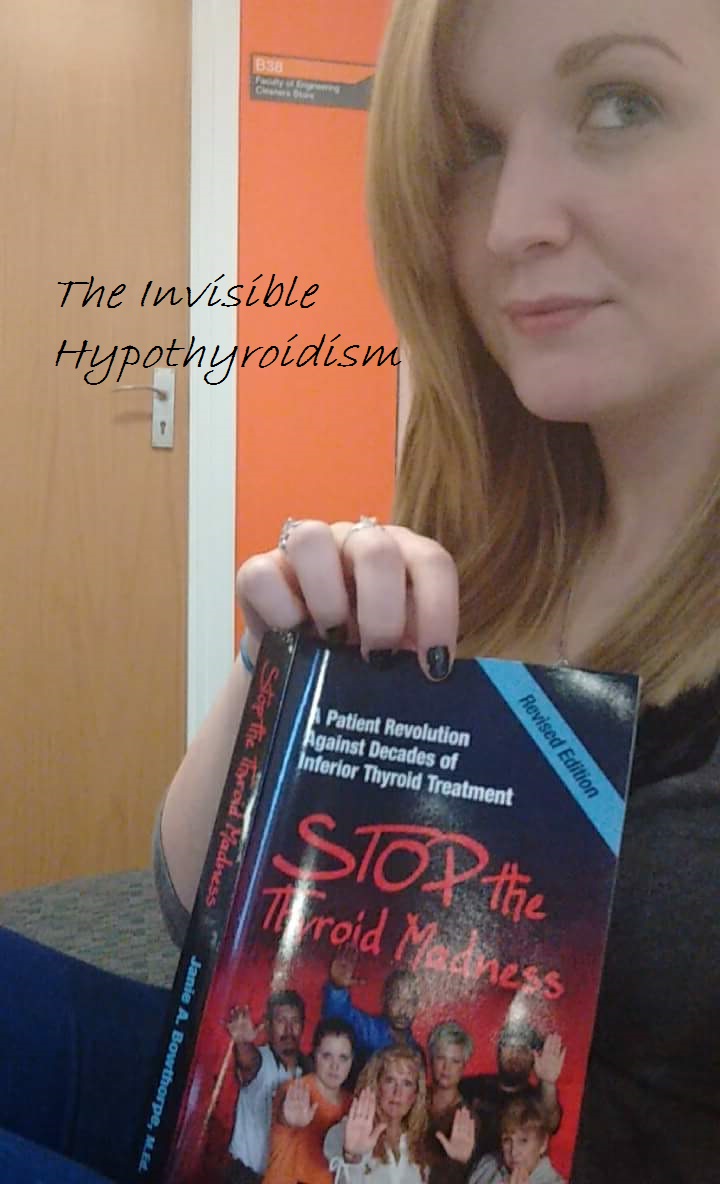 Overall, the book is written in a simple-to-understand way, which is great for those of us who aren't medical professionals and ironically struggle to take in what we read, due to thyroid brain fog (a very common symptom).
You can really feel that Janie has written the book straight from the heart and with passion to help others gain the confidence and knowledge they need to help themselves get better.
It starts with an introduction to why Janie chose to write the book and each chapter, brilliantly written, gradually introduces us to more aspects that are well worth knowing, about having hypothyroidism. The first few chapters are written simply, with very basic information about having the condition and some history behind it and as it progresses, it gets that little bit more advanced, but without you really realising. She's wrote it in such a way to slowly build your knowledge from that of a beginner's to advanced, without much effort on your part.
The book itself covers why T4-only medicines do not help everyone and why staying on them could be causing you to stay hypothyroid with ongoing symptoms. It also covers how to order/ask for the correct lab work you require as a hypo patient, how to safely make that switch to NDT and what exactly the fuss with NDT is. It has lots more useful information, including supplements and dietary info also.
In my Facebook support group, I recommend this book for all thyroid patients. New ones, ones on T4-only meds like Levothyroxine, ones on NDT, ones I suspect have adrenal issues.. If you have hypothyroidism, or even suspect you do, this book is a must for all aspects of the condition. I refer back to it quite a bit, so much so that I can recite whole passages now!
I have incorporated its guidance and protocol for pretty much every aspect of trying to get myself better. You can get a copy of this book from Amazon – Stop the Thyroid Madness: A Patient Revolution Against Decades of Inferior Treatment
You can click on the hyperlinks in the above post to learn more and see references to information given.
---
Written by Rachel, The Invisible Hypothyroidism
Social
Community
Rachel Hill, Thyroid Patient Expert and Advocate, blogger and author, has Six 2018 WEGO Health Award Nominations. She is a highly ranked writer appearing in the Top Hypothyroidism Websites and Top Thyroid Websites 2018, with relevant qualifications and certificates in Diet and Nutrition, whilst also currently studying  Life Coaching, Motivational Speaking, Reflexology and more. She has worked with The National Academy of Hypothyroidism, The BBC, The Mighty, Dr. Hedberg, Thyroid UK and ThyroidChange, to name just a few. She is well recognised as a trusted and useful contributor to the thyroid community.