Click here to listen to a reading of this blog: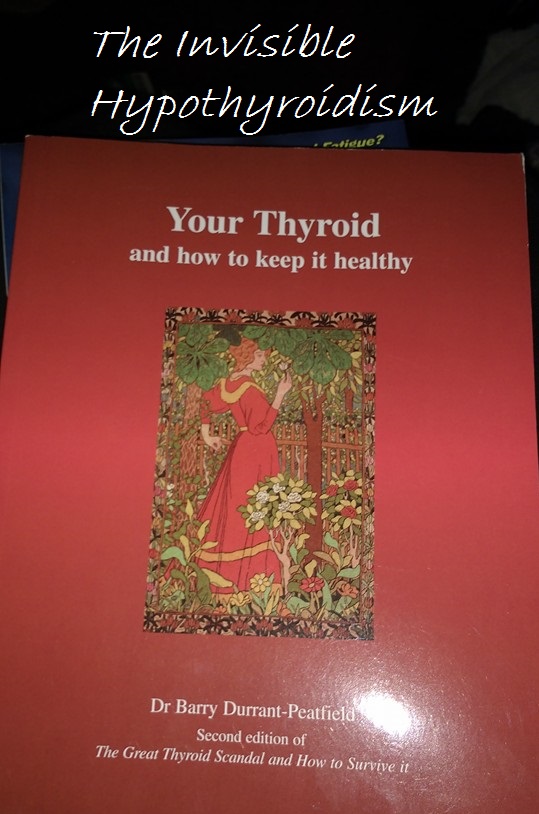 This book has become my new favourite thyroid book. It's a bit technical, but not too much to put me off, and is full of lots of things you need to know as a thyroid patient, but that I've never read anywhere else.
Most importantly, it feels honest. I felt the writer's genuine goal to help people help themselves. 
The book covers lots of information about having a thyroid disorder, how to recognise associated problems, and how to take an active part in your own treatment.  
I'll reference back to this book and what I've learnt from it throughout my blog posts.

Every thyroid patient needs this book, in my opinion. It's well written, honest and memorable.
There's an introduction to Dr Barry Durrant-Peatfield, which explains how he fell out of favour with the NHS (essentially, he often NDT medication and acknowledged that hypothyroidism is a lot more common than most other doctors believe it to be). He's very popular with thyroid patients and other thyroid advocates, and I've had many people reach out to me before to share their own experience with seeing him as a doctor. He is very much loved in the thyroid community.
I believe in and respect everything he says in the book. He is honest, informative and always backs up what he says with proof or sources.
The first couple of chapters explain what thyroid problems actually are and how they occur biologically. I found it hard to follow at times as I'm naturally not a sciencey person, but its more for extra info than essential knowledge. It is really interesting. You can always re-read it too. My partner really liked it!
I liked his introduction which included history about hypothyroidism, how it was 'discovered' and how it was treated early on. I've always been a bit of a history nerd, so I love these kinds of passages.
At the back of the book, he includes a list of signs and symptoms for thyroid problems, which isn't exhaustive but will be handy for some newbies to the condition. Some he goes into in more detail, and I think this would be informative to patients who don't realise just how many symptoms are related to thyroid disorders.
He also covers hyperthyroidism in this book, which is an interesting read. Even as someone with hypothyroidism, it helps to have some knowledge about hyperthyroidism, if for any reason, you were over medicated for example or your type of thyroid condition changes. I just love learning about all things thyroid-related, myself.
He covers possible causes for thyroid disease in quite some detail, which is food for thought and very interesting. It gives you ideas on what could have caused/contributed to your own.
He also covers the options for thyroid treatment, and it's clear to see he supports natural, non-synthetic treatments. He wastes no time explaining why he feels NDT is the medication of choice. He dispels a few of the myths doctors are known to use when they scare patients about using NDT. It's also evident that he's particularly interested in the metabolism, which thyroid patients can have difficulty managing, and his input is rather insightful. There's a passage on losing weight and the relationship with carbs that is super-interesting.
Other hormones, not just thyroid ones, are covered, including DHEA, Melatonin and sex hormones, which some thyroid patients will find they also have imbalances in. He also explains why he favours urine samples rather than blood samples for thyroid testing, which is certainly not conventional, but intriguing. He definitely has a non-conventional view on quite a few things, but I don't find them to be ridiculous. He has good reasoning and backs up points with other research where possible, and case studies/comparisons to his own patients and experience.
I particularly liked his diagram of the adrenal cortex, which has stayed as a mental image with me since. A lot of the information in the book, you don't necessarily need to know, but it is beneficial. Everything is connected, so it helps to know how and why.
He talks about 'adrenal fatigue', and the link to the thyroid, which you know is something I've mentioned a lot, too. He gives tips just like James Wilson does in his book, on adrenal stress management, vitamins we should take to encourage adrenal recovery and health and medication, if needed.
What is evident, is his preference to try to naturally help people recover from thyroid and/or adrenal problems first, before going down the route of lifelong medication. I find this refreshing.
He speaks in a way that makes you feel comfortable with his suggestions for self-medication. He even suggests that we take our health in to our own hands, and, at the end of the book, tells us to go ahead and do it, now we've read everything we need to know in his book. There is a whole 'Helping Yourself' chapter which I felt was a really positive way to end the book.
Having been diagnosed with chronic fatigue syndrome myself (thought it magically disappearing once I switched to NDT), I found the chapter on this to be particularly interesting, and I know a lot of others with the diagnosis will, too. He explains what he feels could be the 'causes' for it, despite many doctors not knowing what causes it themselves. It is worth a read for sure. I might pass this on to non-thyroid patient friends who have CFS.
The chapter on depression I feel is very important and another that non-thyroid patients should read. So many thyroid patients struggle with mental health, but so do people who go undiagnosed with thyroid problems. There is a connection with mental health and the thyroid hormone T3, which is something I have already covered, and Durrant-Peatfield covers it in more scientific detail, as well as other causes for depression. It is incredibly interesting reading.
Overall, I think most thyroid patients would find this book to be very helpful and informative. It covers a lot, in what is actually not a very long book. It could be helpful to those who think they may have thyroid problems, too. It's scientific, refreshing and honest. The style in which it was written made me feel empowered each time I read a chapter or two and the author is a trusted source among many advocacies and patients.
You can get a copy of this book from Amazon on the link below.
Have you read this book? What did you think?
You can click on the hyperlinks in the above post to learn more and see references to information given.