Click here to listen to a reading of this blog:
Dr. Skinner's book, Diagnosis and Management of Hypothyroidism, is different to other thyroid books I've read, since it's aimed at other doctors and medical practitioners, as oppose to the patient. But it's a must-read for all thyroid patients, all the same.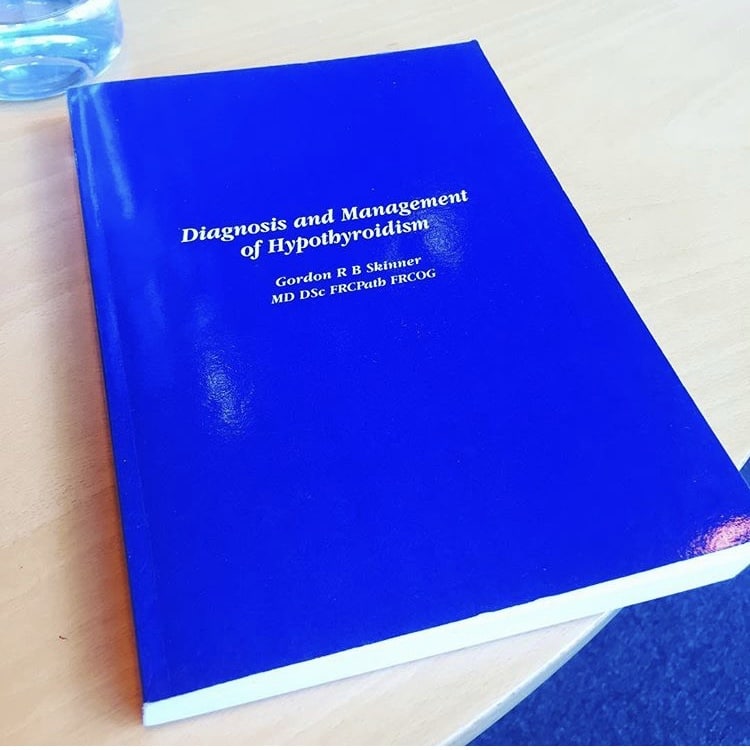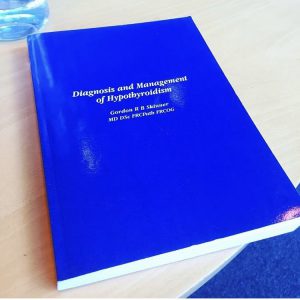 Dr. Skinner goes through the symptoms of hypothyroidism, possible causes, other conditions it can be linked to or misdiagnosed as, the management of hypothyroidism in terms of medication options and dosing and even the difficulties he has come across, as a doctor with a specialist interest and knowledge in this area. 
I'll reference back to this book and what I've learnt from it throughout my blog posts.
Now, bearing in mind that this book has been written with the primary intention of educating other medical professionals on the ins and outs of hypothyroidism, it can be a little hard going for the non-medically minded, with many terms and words used a little foreign. That being said, you soon settle in to the tone and language of the book and I didn't have much trouble at all following what was being discussed and explained. And Dr. Skinner writes with such a unique, humorous perspective, that it's at times, surprisingly funny.
I found myself chuckling at several parts, which prompted my other half to ask what I was reading. When I read it back to him, he didn't find it so funny… I think only those of us who have experienced hypothyroidism and mis-management of our condition first-hand, will truly get the humour.
Now, I've had this book for over a year, but it's only taken me a couple of weeks to read. It's quite a quick read and you could easily do it in a couple of days if you're that determined.
Dr. Gordon Skinner was a private UK doctor (not NHS) willing to think outside the box in terms of treatment for his patients and due to this, he was treated unfairly by the General Medical Council, who believed he was putting patients lives at risk by prescribing too much thyroid medication for some, because he dared to listen to the patient and their symptoms over tests results alone, as well as using NDT, which isn't often prescribed in the UK.
Despite this, he was well-loved by his patients and many got better under his care. His passing a few years ago was met with great sadness and many consider the GMC and the stress they put him through with frequent reviews, sanctions and 'punishments' to have led to his stroke.
And his book is still helpful to many patients and doctors today. I can imagine it was quite groundbreaking when it was released in 2003.
I must say, I didn't find much of it to be information I didn't already know, but then I guess I'm rather experienced in how the thyroid works, it's impact on the body and related conditions, by now. I'm familiar with NDT (it's the medication I currently take) and I'm well aware of the issues other doctors may have with using this.
But I liked his approach, his point of view and explanations on all parts of the disease and management of it. His passion for giving thyroid patients the treatment they need and deserve comes across well in his writing. I wish I could have met him!
The final chapter of the book 'The Faux-Pas of the Decade' is an incredibly interesting read, covering the issue of how hypothyroidism goes misdiagnosed and mistreated for so long, in so many patients in the UK. This is probably my favourite part of the book.
Overall, I would recommend this book for anyone who has hypothyroidism, as they'll gain a different perspective from a UK doctor, on how it should be managed. Many patients will not realise just how many of the debilitating symptoms they live with, are actually from the hypothyroidism and this book covers that in great length.
It also opens up your eyes to the way in which so many doctors in the UK alone are mismanaging hypothyroidism and why.
You can get a copy of this book from Amazon on the link below.
Have you read this book?
You can click on the hyperlinks in the above post to learn more and see references to information given.