Click here to listen to a reading of this blog:
I haven't written a review on a recipe book before, but this one is a must. 
Having received Gluten is my BITCH from Adam (my husband) as a present last year, I was firstly excited to read some more gluten-free recipes, but was soon also delighted by the humorous commentary it's delivered with. You see, April Peveteaux has written a book that combines recipes with memoirs, rants and ramblings of all that is being coeliac, sensitive to or otherwise angry at gluten.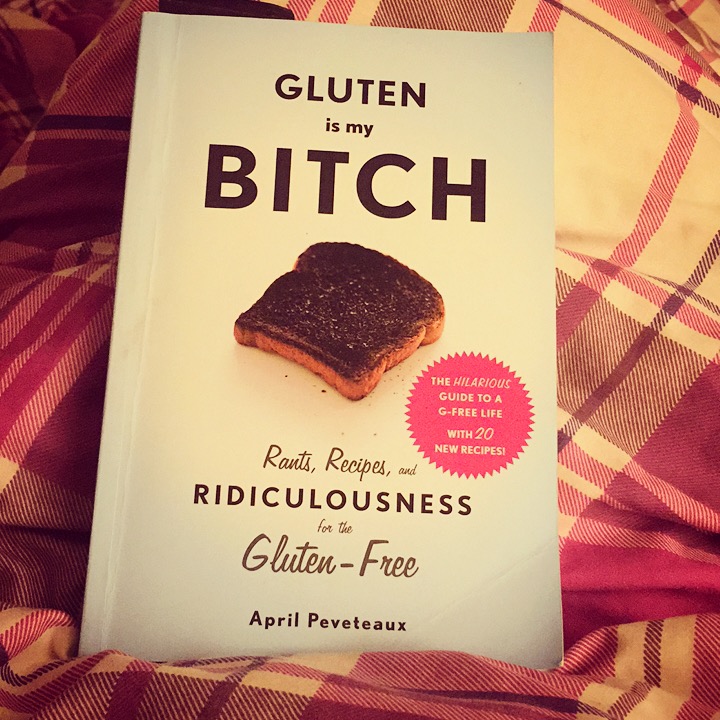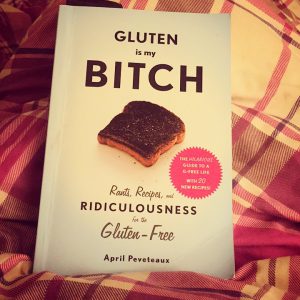 I may reference back to this book and what I've learnt from it throughout my blog posts.
Straightaway from the introduction of this book, I gathered that it was going to make me laugh. Laugh a lot in fact. And I did throughout!
Author April doesn't hide the torment that gluten has put her through, when she went undiagnosed with coeliac disease for quite sometime, in her book Gluten is my BITCH. But she also aims to bring hope to the many who feel lost since finding out they can't eat delicious gluten anymore. April writes with such a fun take on what can be a daunting and miserable experience, that you feel as if a really good friend is taking your hand through the experience, and so everything is going to be alright.
What I also appreciate is that she includes not only coeliacs, but she talks to those who are gluten sensitive (like many of us autoimmune thyroid patients) and those who are just wanting to see if they feel better on a gluten-free diet. She acknowledges everyone and many will relate to her comedic take on being gluten-free or intolerant to gluten.
However, she doesn't sugarcoat that it's a difficult transition, but at the same time her gluten-free recipes make it sound easy to make some deliciousness at home to fill that doughnut shaped hole in your heart. April's recipes are handily printed on blue pages whilst her 'rants and ramblings' are on white pages, making it easy to skip to certain recipes when you need them. Her recipes include nachos, casserole, corn bread, mac and cheese, waffles and more, to have you covered for all occasions and cravings.
The book not only covers what foods you need to avoid on a gluten-free diet due to gluten lurking in the ingredients, but it also covers cross contamination, how to handle eating out when gluten-free and coming to terms with adapting to the lifestyle and diet it entails.
She sure knows how to write with a fun tone, often poking fun at herself and mocking the gluten-free lifestyle, which is really refreshing to read and makes a gluten-free recipe book a lot less scary. April also raises the importance of becoming more assertive with your health and owning being gluten-free, such as putting your foot down to ensure you don't get glutened. April shares personal experiences – many very humorous – that she hopes we'll learn from, too.
Her commentary on all those who encompass the gluten freebies – celiacs, gluten sensitive, paleos, vegans, – and even children, is very eye opening. She has a whole chapter dedicated to handling a gluten-free lifestyle for a child and the many questions you may have should you encounter it.
April has really covered a lot of bases in Gluten is my BITCH, ticking off many serious topics and questions that need to be covered for the newly gluten-free, but with such humour that I really can't do it justice myself, in this review alone. If you're gluten-free or thinking about becoming gluten-free, this book really is a must-read. My family have even read it to gain more of an insight in to my fairly new diet and restrictions. As it also covers the types of symptoms that those who don't tolerate gluten well (if at all) experience, my friends and family have also become more aware of why I can't eat it, which can be really reassuring since a lot of people listen more to books than what people generally try to tell them anyway.
You can get a copy of this book from Amazon on the link below.
Do you have any favourite gluten-free recipe books?
You can click on the hyperlinks in the above post to learn more and see references to information given.