Click here to listen to a reading of this blog: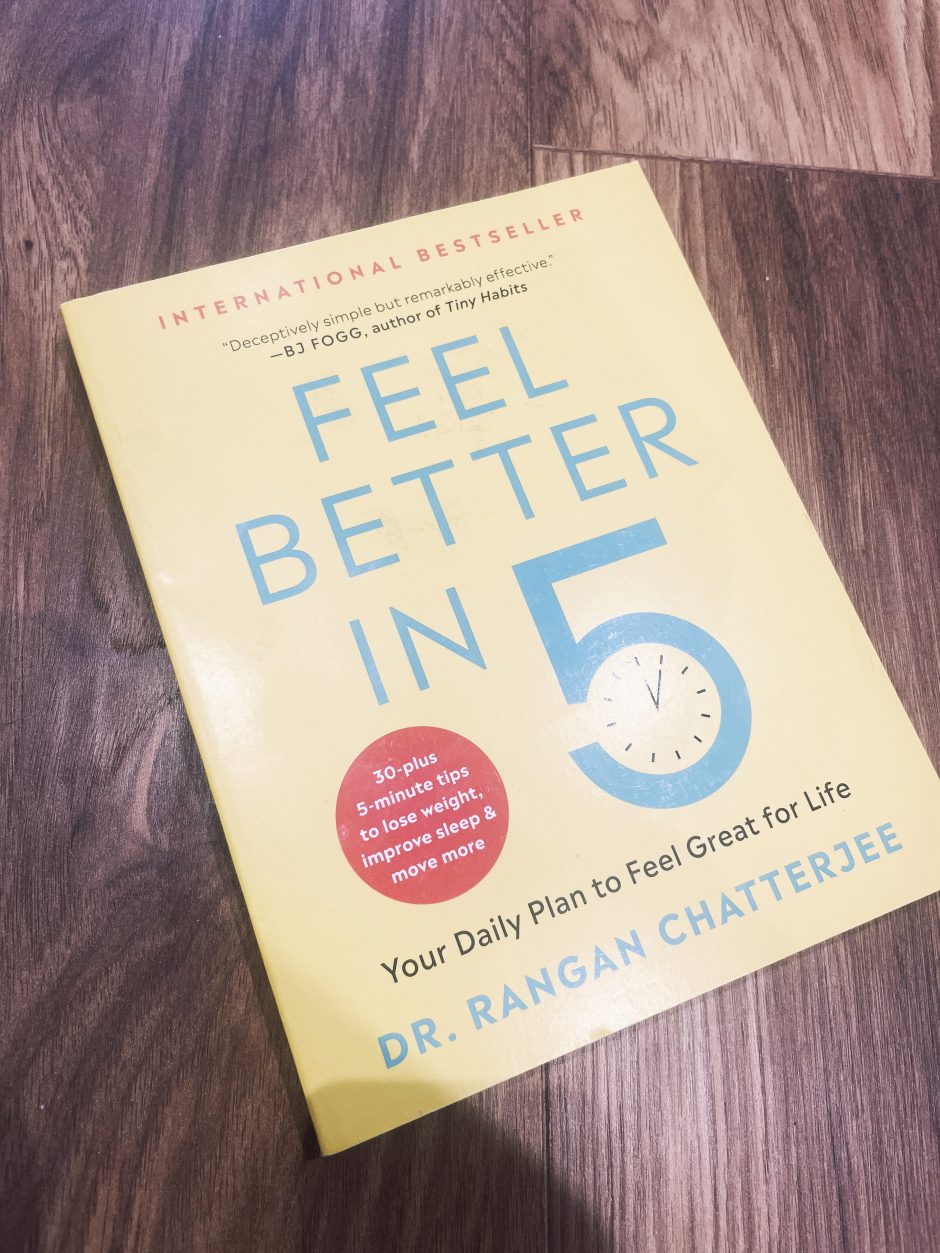 I've been looking forward to sharing Dr Chatterjee's books with you all as he's not only a UK doctor but he also combines both conventional and lifestyle medicine in the way that I aim to in my thyroid advocacy work also.
Doctors in the UK who do this are often rare to come across, but here's Dr Chatterjee, who has, so far, written three books talking about this.
The book I'm reviewing today is Feel Better in 5.
I may reference back to this book and what I've learnt from it throughout my blog posts.
If you've embarked on a new 'lifestyle plan', New Year's Resolution or exercise regime full of hope, only to find that you haven't stuck to it yet again a few weeks later and felt disappointed at your lack of willpower, you're not alone. 
Dr Chatterjee opens Feel Better in 5 by explaining how we often fall in to this cycle and why it simply does not work when we rely on willpower alone. His recommendation is that we reframe any changes we wish to see, as habits and that we find ways to work small changes in to our daily lives in order to see changes which are sustainable. All he asks is for you to give it five minutes.
Dr Chatterjee asks us to choose one habit to change from each of these areas: Mind, Body and Heart. It is from here that he then walks the reader through how to implement them in their day to day life to reap the benefits of better health. 
The areas I chose to implement personally were:
getting out in nature everyday, which can lower stress levels / cortisol and boost the immune system. I did this by aiming to go for a walk each day, or even spending time sat in my garden with a cup of tea. 
doing a simple 5 minute workout each day, which has both physical and mental health benefits.
gratitude – ending the day acknowledging about what am I am grateful for. Most days it is something simple such as a home cooked meal or a walk I went for with my child.
There are 22 possibilities to choose one, with each option being non-overwhelming and easy to fit in to your usual daily rhythm. I have definitely felt the benefits of fitting these small, daily habits into my life, as I am less stressed, less tired and overall feeling better balanced for it.
By following his approach, Dr Chatterjee tells us that we can reduce anxiety, depression, chronic pain, gut health issues, headaches, high blood pressure, stress and more. He also promises that we will see better fitness, brain health, energy, focus, sleep and overall well-being. 
Viewing the body as a whole, Dr Chatterjee wants to encourage us to feel empowered to make improvements in our health. He calls for more evolution in medicine, looking to treat the root of problems rather than masking them with more and more drugs. Lifestyle changes, he says, can have a big impact.
All of the areas in which he covers in his book are areas I also touch on in my thyroid advocacy work, which is why it's a useful read for those with hypothyroidism and Hashimoto's, even if he isn't a thyroid specific doctor.
Learning how to reduce cortisol levels, exercise in a sustainable way and optimise sleep and energy levels all play a part in our larger thyroid jigsaw puzzle. 
If you're ever reading information regarding what you 'should' be doing as a thyroid patient to improve your health and feel overwhelmed, then this book can simplify a lot of it and make it easier to consume and implement in small, manageable steps.
Overall, I found this book to be a really useful read.
You can get a copy of this book from Amazon here.
Have you read this book? What did you think?