Click here to listen to a reading of this blog:
I was lucky enough to win a copy of this ebook in a competition a few months ago. Whilst it is predominantly about Graves' disease, the condition that leads to hyperthyroidism, it does touch on Hashimoto's in places and I'm aware that some thyroid patients can have both conditions or antibodies for both. Also, some hypothyroid patients initially start out with Graves' and/or hyperthyroidism, before becoming hypothyroid. 
Related post: Can You Have Graves' Disease as Well as Hashimoto's?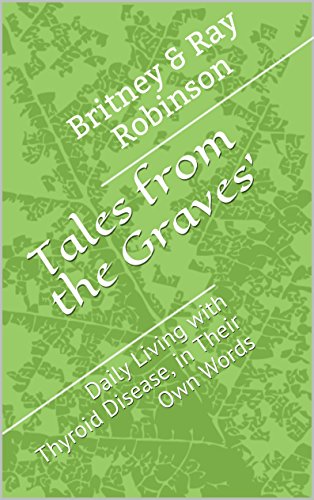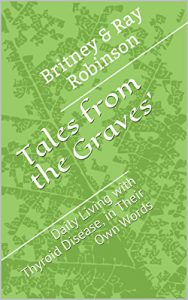 Tales From The Graves' contains anecdotes, stories and personal experiences from over 120 thyroid patients, alongside a beginner's guide on what Graves' is, the signs and symptoms and issues that many people with it face. 
I'll reference back to this book and what I've learnt from it throughout my blog posts.
With chapters:
Diagnosis – Which covers the stories of how many people discovered they had Graves' disease as well as the most common symptoms.
Companion Health Issues – Covering what other conditions often come hand in hand with thyroid disease.
Testing – Discussing what tests are needed, what you're looking for in results and the importance of a good medical professional.
Medicine – Looking at the usual route of medication for those with thyroid conditions.
Doctors – Peoples' experiences of visiting various types of medical professionals for the management of their condition and the varying degrees of success with each.
Day by Day – Looking at how to move forward with a positive mindset and learn to live with your new diagnosis.
Weight – discussing the changes in weight with thyroid conditions.
Insights – more positivity going forward as you come to the end of the book.
What was particularly nice were the Words of Encouragement at end of each chapter, which reminded the reader that it wasn't all doom and gloom; an important mindset to have when you've been diagnosed with a lifelong condition and may be feeling overwhelmed.
By hearing advice straight from other thyroid patients' mouths, readers get real life and relatable experiences and advice on pursuing a diagnosis, finding a good doctor, and the tests they learnt they needed in order to achieve the correct diagnosis and treatment, among other things.
Many of the contributors don't mince their words since their experiences are honest and oftentimes shocking and sad. The range of stories is really quite surprising. The book contains real stories of lives turned upside down, friends lost and gained, frustration and elation, despair, fear, anxiety and jubilation, all at the hands of thyroid disease.
In my opinion, not only will thyroid patients find it useful in terms of a resource for getting themselves better and reassurance that they are not alone in battling the disease, but friends and family of those with a thyroid condition would also benefit giving it a read to gain valuable, honest and raw insight to the effects of the condition.
You can get a copy of this book from Amazon on the link below.
Have you read this book? What did you think?
You can click on the hyperlinks in the above post to learn more and see references to information given.
Related post: Can You Have Graves' Disease as Well as Hashimoto's?