Click here to listen to a reading of this blog:
After the success of past posts Thyroid Patients Explain What Thyroid Fatigue Really Feels Like and Thyroid Patients Explain The Devastating Effects on Their Mental Health, I thought it was time to put together another post in that format. 
I asked 'What were your most surprising symptoms of hypothyroidism?' in order to educate people on just how far reaching the condition is in affecting the body from head to toe.
In my case, I found the way my speech slowed down (sometimes sounding slurred), the heavy brain fog that would make me unable to recall what I had done a few hours ago or the intensely itchy scalp, were among the most surprising. I was surprised to eventually learn that they were all from my thyroid condition. Read more about my own most surprising thyroid symptoms here.
It is important to keep in mind however, that many other health conditions and issues often go hand in hand with hypothyroidism, so knowing which symptom comes from where can be difficult when you have multiple things going on.
Here are what people said:
"My most surprising symptom was feeling almost as if I had the spins constantly. Everything would move in waves and it would happen regardless of if I was sitting or standing. But mostly while walking." – Kayla

"I don't know where to start, so let's give a few: swollen tongue, my eyes itch, my hair is dry, my skin is dry, I suffer with bad migraines, depression, IBS and pains in my joints." – Sharon

"The brain fog. I honestly thought I was showing signs of dementia at 40. I forgot words, names, if certain things were edible (they were), and what I was saying in the middle of a sentence." – Susan

"Itchy armpits!" – Alicia

"Cold hands and feet. So cold that it feels like it is burning. Like someone put my toes in a bucket of ice." – Layla

   "Infertility was the most surprising for me. Thankful for our miracle baby." – Jessica

"Dandruff, and just how MUCH I had forgotten due to brain fog. Couldn't remember who my parents were, my age or birthday or what I looked like." – Nadja

"Hair loss. I lose handfuls of hair just shampooing and conditioning. It's hard not to cry when you look at your hairbrush and you can see all the hair. The bald spots on your head that you cant hide." – Daphanie

Related Article: Can Hypothyroidism Cause Your Hair To Not Retain Hair Dye?

"Melasma. I went for years – 28 to 37 dealing with adult acne, which was worse the past 2 years, only for that to start getting better, and now melasma. Can't win." – Amy

"Feeling a tornado inside my head." – Athoy

"A lot of people think only cold intolerance comes from hypo but heat intolerance is a real thing." – Kayla

"The development of vitiligo on my face after a decade of non-treatment." – Melissa

"My biggest surprise was how my balance was affected, I feel like I am drunk without the alcohol." – Margaret

"Eyebrow thinning… used to pay to have them waxed, now I pay for dye to fill in the bald spots." – Judi

"It feels like my body is working in slow motion, including my breathing, my movements, my thoughts. All day I feel like how normal people do a few minutes before they drift off into sleep. My body feels heavy, my muscles ache and can be restless." – Monika

"Extreme fatigue when I wake up in the morning and stiffness even though I slept all night." – Rose

"Depression… severe clinical debilitating chronic depression!
For 24 years drs have been putting me in psych wards and pumping me full of addictive destructive pharmaceuticals. None of it worked until I figured it out on my own. The Synthroid they told me was managing my thyroid disease wasn't." – Carrie

"Having to undergo a brain scan for suspected early onset dementia due to memory loss & brain fog." – Louise

"The cough! I have been coughing for a year which in itself is pretty tiring and not really ideal when feeling fatigued to the max anyway! Its a tickle that starts right when the thyroid is and it is hard to stop once it starts! And another……the acid reflux. It burrrrnnns!" – Tracy

"Plantar fasciitis! I've had foot pain since I was a teenager. Didn't know the two could be connected until very recently." – Jackie

"My scalloped tongue, I always thought I was just weird or I thought it was because I'd had braces when I was younger and a retainer. Sometimes my tongue is so enlarged I wake up in the morning and I've clenched down on it so I have two rows of marks one the regular scallop and a second from my own teeth. Sometimes I just sit with my tongue hanging out of my mouth cause it just feels too big and heavy." – Cecelia

"Wrist pain … I had to use wrist supports for my computer keyboard and mouse. It just disappeared after being diagnosed and treated. Along with being unable to fit bracelets over my hand." – Elizabeth

"The fatigue is like nothing I've EVER experienced, it's like I'm in a weighted suit all day every day, tasks that were once not even thought about are now a struggle." – Anita

"The never-ending period. I'm talking 6-7 months of whacked up menstruation." – Alisha

"I think what surprised me was the mental and emotional impact. I felt like my identity had been stolen and that I had been left vacant and soulless." – Maria
What would you add?
Read other blogs in the 'Thyroid Patients Explain' format here. 
---
If you are on thyroid medication and still having these kinds of symptoms e.g. fatigue and others, you are likely not adequately treated, or have other problems you need to address. A properly treated thyroid condition should have no or very few symptoms. Of course, other illness, conditions and deficiencies can cause problems too, so explore them all if possible.
And of course, getting ourselves adequately medicated and finding doctors who will listen to us, is a whole other topic!
Read about my 14 Missed Signs of a Thyroid Condition Before I Was Diagnosed.
You can click on the hyperlinks in the above post to learn more and see references to information given.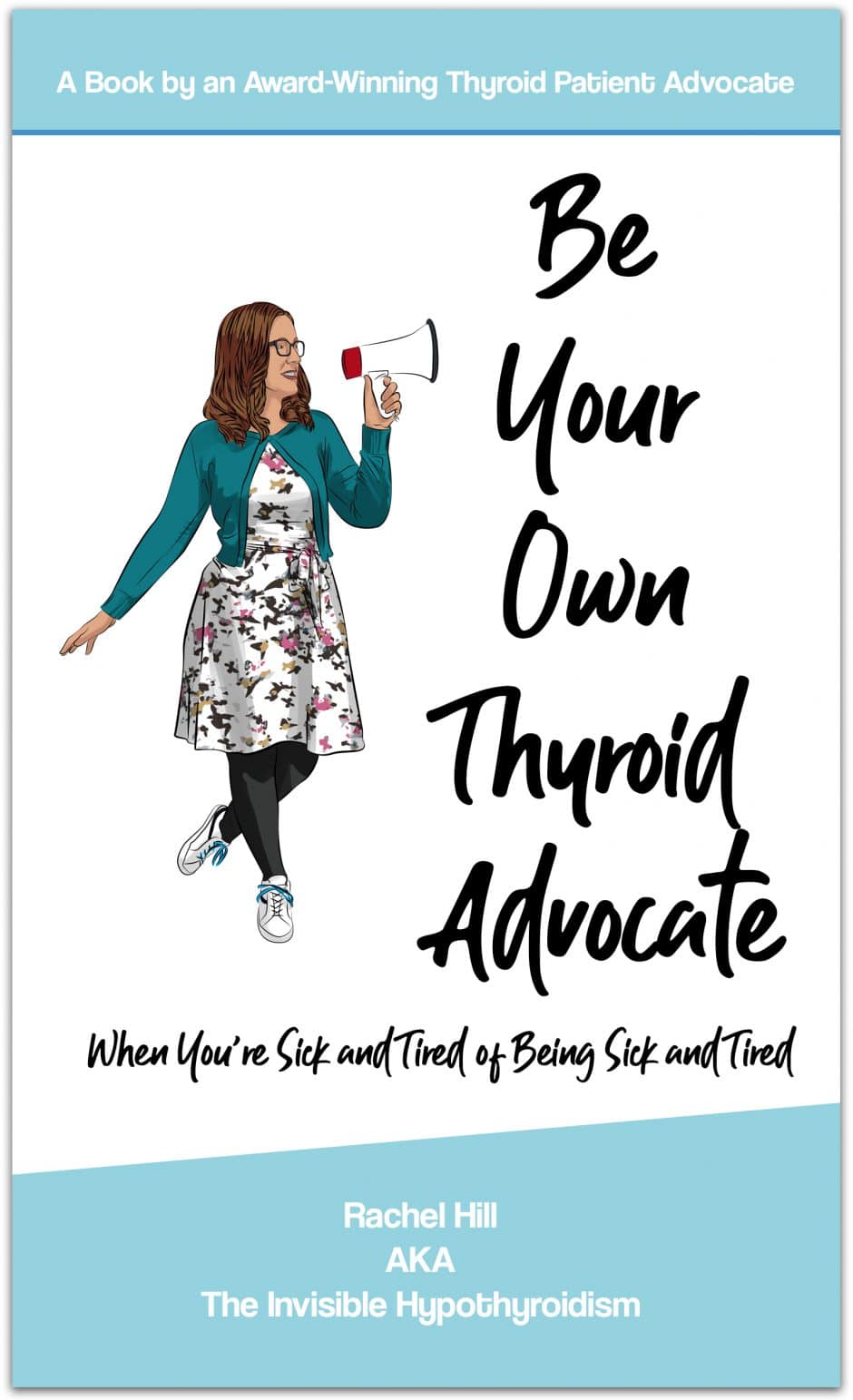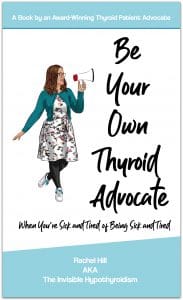 See also:
The book Be Your Own Thyroid Advocate: When You're Sick and Tired of Being Sick and Tired, which builds on this article in detail. Reclaim your thyroid healthy life and say goodbye to symptoms.