Click here to listen to a reading of this blog:
Developing a chronic illness or being diagnosed with one, such as Hashimoto's or hypothyroidism, often changes your life in both obvious and not so obvious ways.
Areas it Touches
Depending on the level of severity that the person experiences, they may see changes in their personal life as they have less energy than they used to and struggle to keep on top of housework, for example.
They may see changes to work, as they put into place adaptations to make working with their health condition easier.
And changes in relationships often happen too, as some friends inevitably drop off the radar when you're less able to make social events or they become less interested in you because you're 'sick', and they don't know what to say to you.
A Change in Personality
But one change that perhaps isn't noted very often is the way in which the diagnosis or development of a health condition can lead to the change in your personality.
Since developing Hashimoto's, Hypothyroidism and more, I know my personality has changed. It's a realisation I've only come to more recently, despite holding these diagnoses for years now.
The way in which having hypothyroidism, a condition resulting from low thyroid hormone levels, has given me fatigue, brain fog and poor stamina to name just a few key symptoms, has definitely taken me from the bright, switched on, chatty, active and full of life Rachel, to a ditsy, sometimes absent-minded, reserved individual who may even be perceived as lazy.
Before becoming very ill, before my diagnoses, I was active – taking part in dance lessons, badminton sessions, hours of walking and running every week. I was far from lazy.
Before the thyroid condition, I was a quick learner; a sponge soaking up everything and anything and perceived as intelligent. I was always top of the class or in the top few.
My Worries 
However, I worry these days that work colleagues and even some friends think of me as ditsy, lazy, unintelligent and uninterested in conversations or meetings, when I struggle to contribute. When the truth is that my brain sometimes lags behind everyone else's and it's only ten minutes later that I have something to add to the conversation that my brain has now processed, but has equally passed in the present!
At the worst points of having hypothyroidism, I have gone from being very active to not being able to climb the stairs unaided. I've gone from quick thinking and great ideas to yawning deeply and looking blankly at someone as they ask me a question.
But, however big the negative changes to my personality may be, the positive changes are even bigger. And better.
Positive Changes To My Personality and Life 
Through learning to advocate for my own health and feeling empowered by that responsibility, I have become more confident.
I am more confident in advocating for my own healthcare (and subsequently, other peoples'), yes, but also more confident all-round.
I speak up for myself these days. I worry less about what other people think about me because I'm more self-assured. I am confident in my own abilities to do whatever the heck I want to because I have proven time and time again that I can do it.
I can slot a piece of the big thyroid jigsaw back in to place and make a step forward in terms of my health (e.g. with a thyroid medication change) but I can also write an article for a website and receive praise. I've even written a book.
Without my diagnoses, neither of these would be possible. My personality would never have changed in this way if it wasn't for the thyroid condition existing. Sure, I always loved writing, but I never had a niche or topic to get passionate about. My diagnoses gave me that. It gives me a lot of what I'm passionate about and thankful for today.
Feeling More Appreciative 
I am also more appreciative. When you don't always know if you're going to wake up feeling your best or worst, you learn to savour the good health days. I am more appreciative of the simple ability to walk on the days that I can, because I know that flare-ups in my condition can come out of the blue, sometimes.
I appreciate the smaller and simpler things in life. I also appreciate the things I know my peers won't until they're a bit older.
I appreciate the value of real nutrition because of how everything I eat and drink either helping or hindering my health. I appreciate slowing down and I don't need to be out partying every weekend. I appreciate calm dinners with friends. I appreciate having enough energy to change the bed sheets. I am much more aware of my blessings.
And the other major way my personality has changed with the thyroid diagnoses is by becoming more understanding.
By having my own world turned upside down, I developed empathy for others going through difficult times and trying to keep their head above water. I've always been a sympathetic character, but I could suddenly really put myself in another's shoes and found a new sense of really feeling for them.
You see, although my health conditions can negatively affect my personality in some ways, the positive ways in which it has changed it far outweigh them.
And the nature of my conditions mean that they can get better and then sometimes get worse again. Flare ups, good days and bad days. Good health and not-so-good health. It's a bit of a roller-coaster if I'm honest! And I'm not always able to see the next drop or pre-empt it.
How My Health is Now 
Right now, I'm thrilled to be in a very good place with my health, as it is well managed at the moment.
So right now, I feel quite clear headed and on top of my game. But that foggy minded, ditsy and sleepier Rachel can and probably will make an appearance again one day. In fact, it could be tomorrow, as flare ups don't always mean weeks or months of heightened symptoms, but can even mean 24-hours.
And when those personality alterations rear their head again, I will remind myself of all the good ways these health conditions have improved not only me as person, but my life and impact on the world too.
Have you found that your thyroid condition has changed your personality in any way?
You can click on the hyperlinks in the above post to learn more and see references to information given.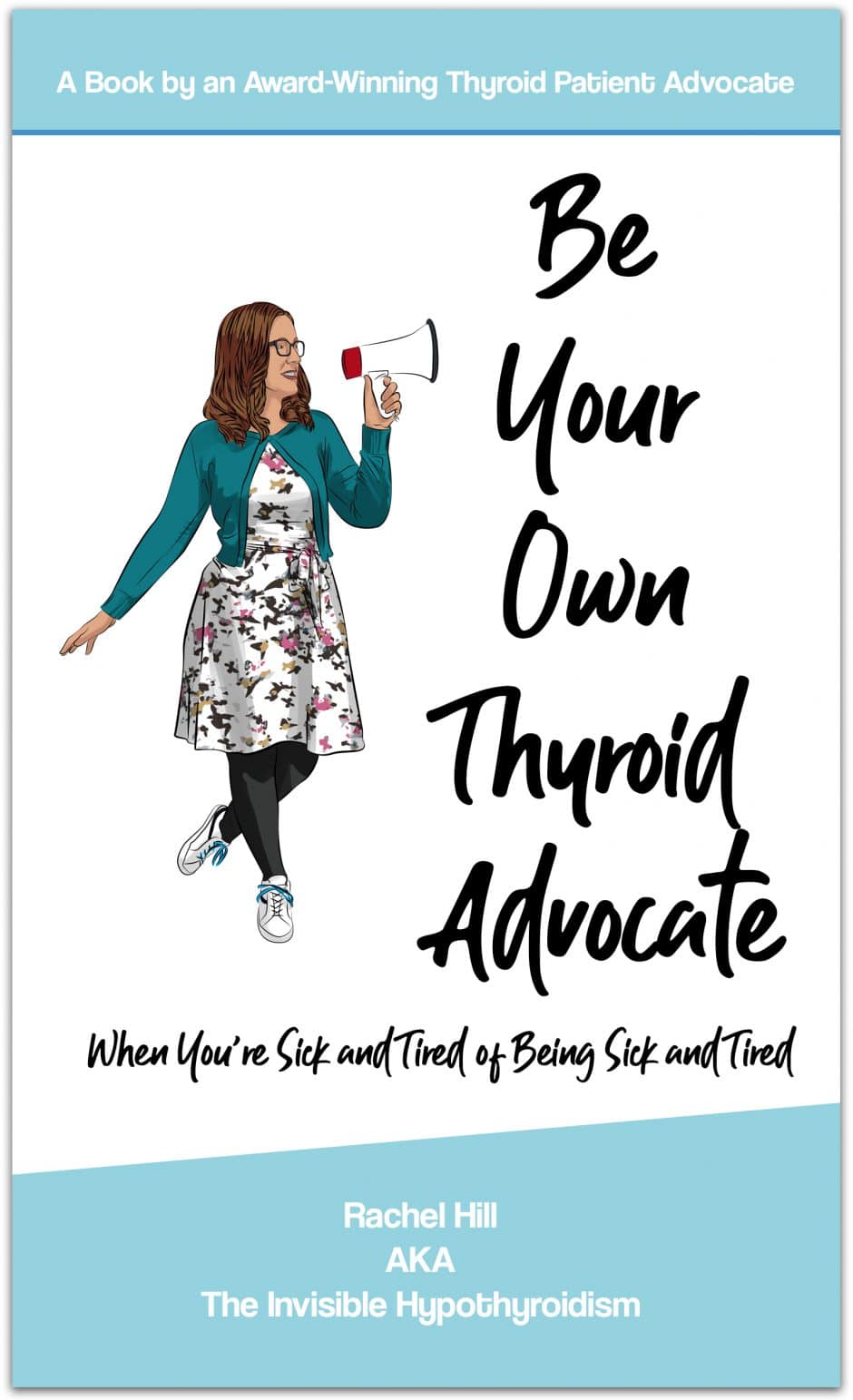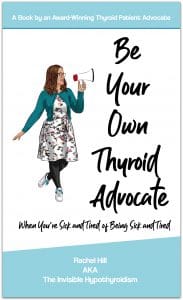 See also:
The book Be Your Own Thyroid Advocate: When You're Sick and Tired of Being Sick and Tired, which builds on this article. Reclaim your thyroid healthy life.