Click here to listen to a reading of this blog:
Originally published on 21st November 2017
Last updated on 6th December 2020
Having a thyroid patient on your gift shopping list can seem daunting, especially if they follow specific diets or avoid certain chemicals, to help manage their condition/s.
So here I am with a list of ideas for gift giving. I hope you find it useful!
(Pssst! If you're a thyroid patient, you may want to pass this on to your friends and family!)
1. Hot Water Bottle
You may have realised that your hypothyroid friend or family member is cold often or has a hard time keeping warm. Many of the items on this list will be following that theme!
So hot water bottles can be very thoughtful as well as useful and practical, and there are many fun, cute and cosy designs out there, which aren't expensive. Woollen covers and even a handmade, knitted cover make them extra special to receive, like the one I've linked to below for example.
Harbour Housewares Full Size Hot Water Bottle With Knitted Cover – Grey

2. Books
There are many great thyroid books out there that can help your hypothyroid friend or family member feel more in touch with what's going on in their body, empower them and educate them. They're often also very, very interesting to read. I have reviewed several books here that you can browse through.
My own book, Be Your Own Thyroid Advocate: When You're Sick and Tired of Being Sick and Tired, is a good book for people living with hypothyroidism to begin.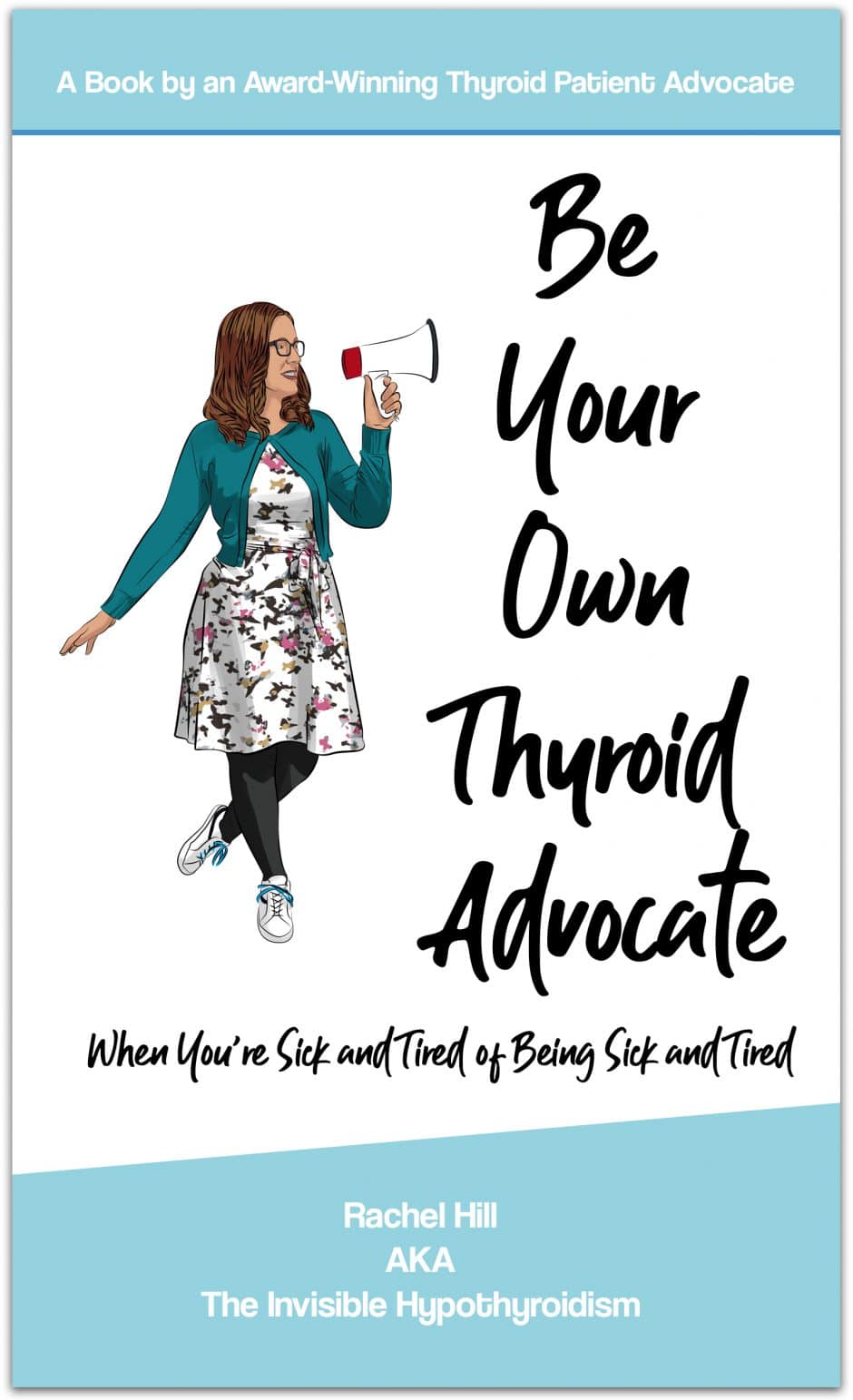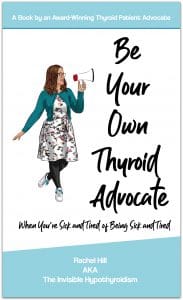 Be Your Own Thyroid Advocate: When You're Sick and Tired of Being Sick and Tired
If they follow a particular diet for their health condition/s, such as gluten-free, dairy-free, paleo or the AIP diet, you could also give them cookbooks to help inspire meal ideas. Here are two good ones:
The 30-Minute Thyroid Cookbook: 125 Healing Recipes for Hypothyroidism and Hashimoto's
Gluten Is My Bitch: Rants, Recipes, and Ridiculousness for the Gluten-Free
3. Tests To Improve Their Health
Many thyroid patients benefit from more comprehensive testing, and what else says 'I support you living your best life' than some tests they may otherwise not buy themselves?
For the UK, Medichecks is a very popular choice for inexpensive yet comprehensive further testing. Their test kits are even designed so that you can obtain a blood sample from yourself in the comfort of your own home and then pop it back in to the post. You can order the all important thyroid function test, cortisol testing for your adrenals and thyroid antibodies to check for autoimmune hypothyroidism (Hashimoto's).
Another place you can order some more in-depth thyroid testing is LetsGetChecked, who offer various tests. You can easily order a thyroid function test, Hashimoto's testing and many more, all from the comfort of your own home.  LetsGetChecked often have discounts too, so be sure to check their website for promotions or discount codes before purchasing any tests.
4. Blanket
Following the 'warm' theme, a blanket can also make a lovely gift idea. Since they come in a range of sizes (to suit a bed, sofa, armchair etc.), materials, colours and patterns, you should be able to find one for everyone. Just check that your receiver isn't sensitive to any particular materials, or go for a material that's safe such as cotton. You could even make one yourself. I've linked to a 100% Recycled Cotton Blanket in various colours, below. 
Super Soft Diamond Throw, 100% Recycled Cotton Blanket, 130cm x 180cm
5. Yoga Items
Yoga and mindfulness practices are often recommended to thyroid patients as a gentle form of exercise and stress reliever. A simple yoga mat is a great way to support someone in looking after their health and wellbeing.
Core Balance Foam Yoga Exercise Mat, Non-Slip, 6mm Thick, Home Gym Workout Pilates, Compact Lightweight With Free Carry Strap
6. Scarf, hat, gloves etc.
Again, these items promote warmth and can be something we don't tend to treat ourselves to. A matching set or even a cute hat on its own can be fun to shop for. If your receiver doesn't leave the house much due to their health conditions, perhaps this isn't the best gift idea for them.
Tuopuda Men/Women Hat Scarves Gloves Set Thermal Winter Warm Knitted 
7. Slippers
A great item for wearing around the house, this one is also suitable for those who are at home a lot. Or if they could do with a pair of work slippers! (What a fab idea). With various styles out there and a range of colours for both men and women, slippers can be a great choice. The 'bootie' style slippers that I particularly love are extra warm and cosy too.
Boot Slippers
8. Socks
Once thought of as the embarrassing, rubbish Christmas present, but now very much back in fashion. Receiving a pair of socks can be boring, but there are fun and better options out there. 'Cosy socks' as they're often called, fluffy, thick socks, specifically aimed for bed wear or for wear with boots in the winter, are incredibly popular at the moment and offer increased warmth and comfort. I've linked to the type of thick, fluffy ones I mean below.
9. Pyjamas and Dressing Gowns
Who doesn't like receiving pyjamas?! Some of us thyroid patients end up spending a lot of time in our PJ's and dressing gowns due to sickness and/or lack of warmth, so you know they'll be well-used.
10. BPA and BPS-Free Water Bottle
I love my water bottle and carry it with me everywhere; around the house (to remind me to stay hydrated all day), when I go out, on holiday etc.
Bought a few years ago now, it's lasted me really well and I have that added peace of mind that it's not messing with my hormones or thyroid health as it's BPA and BPS-Free.
Water Bottle – 1000ml – Non-Toxic BPA Free & Eco-Friendly 
11. Hand Warmers
Sometimes it's helpful to get an extra burst of warmth when you're out and about and perhaps gloves aren't quite warm enough. Hand warmers provide immediate warmth and can last for hours, protecting those fingers from becoming icicles.
Bottle hand warmer with case
12. Electric Blanket
A more expensive gift, but still worth mentioning in case you're looking to spend a little more on perhaps a closer friend or family member. An electric blanket can be heaven in the winter, especially with heating bills on the increase, bedrooms may not be as warm as they should be. An electric blanket is an incredibly thoughtful gift and will be very appreciated.
The Silentnight electric blanket is well reviewed.
Silentnight Comfort Control Electric Blanket – Double
13. Epsom Salts
Epsom salt usage is becoming increasingly popular, especially among those with thyroid conditions, and there's good reason why. Many thyroid patients (including myself) state that Epsom salts in a bath or foot soak help their aching muscles and tired legs/feet, headaches and sprains. These simple salts can be a really thoughtful gift idea.
Westlab Reviving Epsom Salt 5kg
14. Tea
As well as it being another way to keep ourselves warm, tea can offer many health benefits. There are many 'posh' tea brands out there which offer a range of interesting blends and all in lovely packaging, too. Some hypothyroid patients are caffeine-free, though, and follow other diets, so it's worth double checking if they're gluten-free etc. just to be safe.
A nice mug or tea strainer is another fun gift idea, to support their use of warm drinks!
Stainless Steel Tea Infuser Strainer 
15. A Personalised Gift Box
Several companies now exist that specialise in 'personalised gift boxes'. These boxes of lovely items, lovingly packaged and presented beautifully, are bought from the company and sent directly to the recipient, packed full of goodies of your choice. They can include chocolates, tea, socks, teddy bears etc. and are a real heart warmer. Examples I have used include Bear Hugs and Blurt Buddy Box. They have always gone down a real treat. Just ensure all items are suitable for the receiver, food and drink especially.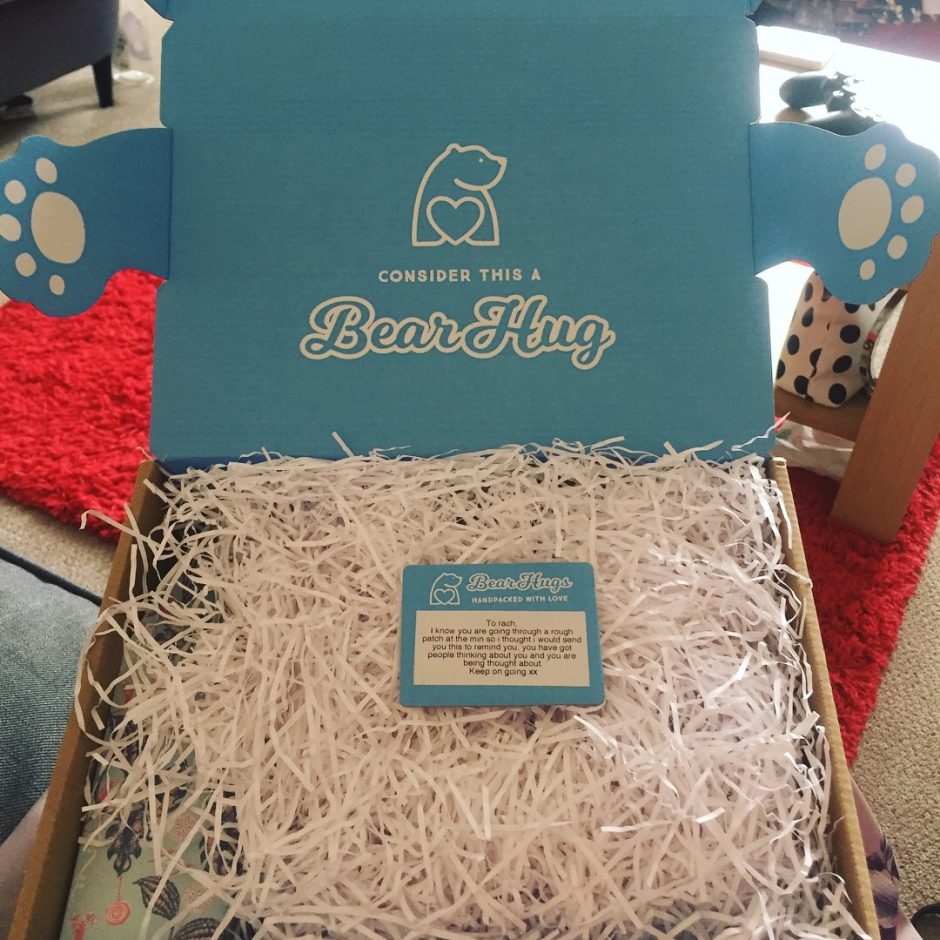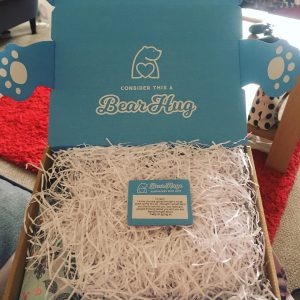 16. Something Uplifting
You may have seen little signs or placards around the shops with motivational wording on, song lyrics or otherwise happy thoughts. 'Dream Big', 'Live the life you love', 'This is my happy place' are all common ones I've seen, and, provided your recipient won't find them patronising or silly, they can be really uplifting to someone battling a chronic illness like hypothyroidism.
Inspirational Dr Seuss Quote – 'Be Who You Are' – Framed Print With Mount – 12 x 10 Inch.
17. Adult Colouring Book
Adult colouring books are crazily popular. With their intricate designs and beautiful pages, adult colouring books help you to de-stress, can help mental health conditions such as anxiety and depression and give purpose. They're a nice hobby for someone who perhaps spends a lot of time at home or deserves some 'me' time and you can pair it with a nice set of colouring pencils. A trip to a craft shop should give you plenty of choice.
Adult Coloring Book
Staedtler Colouring Pencils – Assorted Colours, Pack of 24
18.  Beauty Products and Candles 
This can be a little trickier. Double and then triple check that your recipient doesn't have any allergies or isn't otherwise avoiding certain chemicals in beauty products. Some of us hypothyroid patients use all-natural hand creams, make up and bath products, and only stick to certain brands. Don't be afraid to ask us what they are, or when you're next round our house, have a look at the products in our bathroom for hints!
The same goes for candles and other scented gifts. They can be lovely and relaxing, but we may avoid certain chemicals, so don't be afraid to ask us, or, if you want to be safe, go for an all-natural option.
19. Spa Day
A spa day, massage, pedicure etc. can all make really thoughtful gifts for someone who may experience thyroid fatigue, aches and pains and will really go that extra mile.
20. A SAD Lamp
Seasonal Affective Disorder (SAD) can be common in those with hypothyroidism and can lead to depression, in the darker months of the year. Another more expensive gift option, SAD lamps are very popular at helping to combat depression and low mood, and can be a practical gift for your hypothyroid friend or family member.
Beurer TL40 Daylight Lamp SAD Light
---
I hope you've found this list helpful and have gathered some inspiration for your gift shopping.
If you have any more ideas, add them below in the comments section!
You can click on the hyperlinks in the above post to learn more and see references to information given.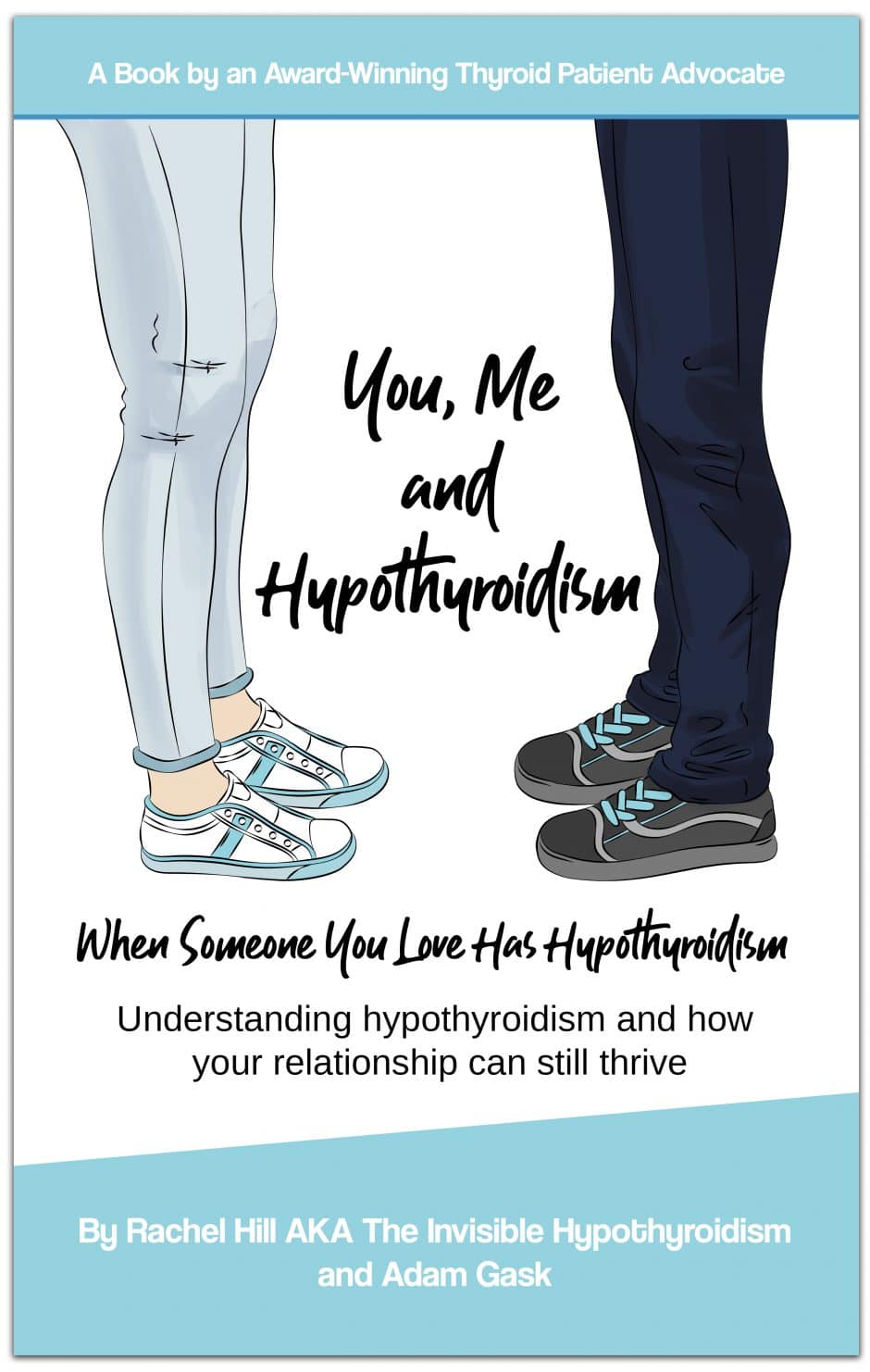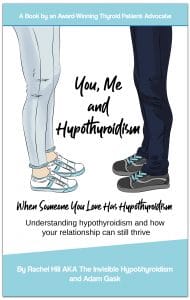 See also:
The book You, Me and Hypothyroidism: When Someone You Love Has Hypothyroidism, for understanding your loved one's thyroid condition.