Click here to listen to a reading of this blog:
I'm so shocked to receive the news today that I've been chosen as a finalist in the WEGO Health Awards 2020 for The Invisible Hypothyroidism's Facebook page and group!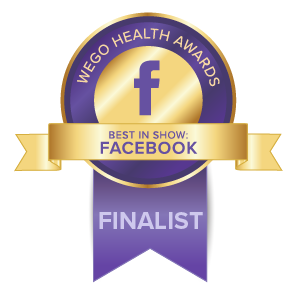 Over 13,000 nominations were made this year, so to be a finalist (1 of 6) for this award is astounding and such a surprise.
The WEGO Health Awards recognise patient leaders who are making an impact with their advocacy work, especially in the online community.
Going from being in such poor health with autoimmune hypothyroidism, to thriving in life again and sharing that with other thyroid patients, has been one heck of a ride. At my worst point, I was bed-bound, unable to climb stairs without my partner's help and unfortunately suicidal.
Trying my best to help others in that situation is a true passion and I really do believe, my calling. I am beyond excited that thyroid disease is in the spotlight and I feel so privileged to be in this position.
As many of you know already, I work nonstop in advocating for better awareness, diagnosis and treatment of hypothyroidism, Hashimoto's and all its related conditions and effects to our lives, and when I say that I am passionate about giving thyroid patients a voice and helping as many people as possible, I really do mean it. Thyroid advocacy is my passion.
Keeping authenticity and raw honesty behind my work, I am always open about my own thyroid journey and this is what makes The Invisible Hypothyroidism so unique. I work tirelessly but never get tired of doing what I do.
Thank you to all who took the time to vote and nominate.