Click here to listen to a reading of this blog:
Originally published on 15th June 2016
Last updated on 10th June 2019
For as long as I can remember, it's never exactly been easy to draw my blood for tests. It can take as many as ten attempts, where I'm left very sore and bruised afterwards!
For years, my veins seemed to hide away, and even when I spent three weeks in hospital a few years ago when very ill, and had to have blood taken and drips and tubes in me 24/7, it didn't get any easier. I remember screaming out in pain when they started taking it from the back of my hand.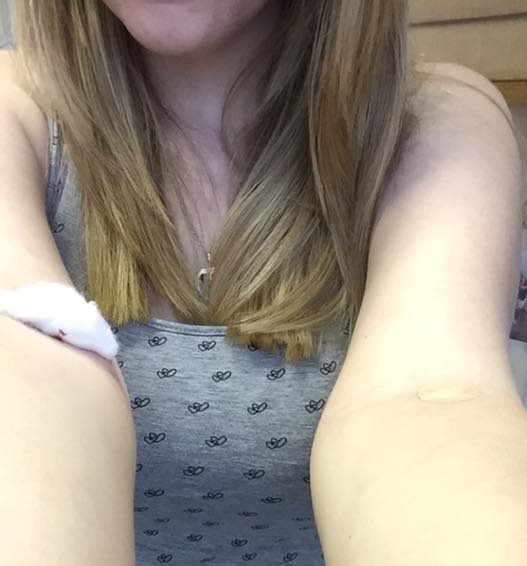 It has not been uncommon for me to leave a blood test with a plaster (band aid) on both arms and a lot of bruising. And it's not nice, obviously!
Sometimes the nurse has gone to fetch another nurse to have a go because the struggle to obtain my blood has been so tricky, while other people think I'm just a wuss, because they get it taken much easier. They don't know the struggle!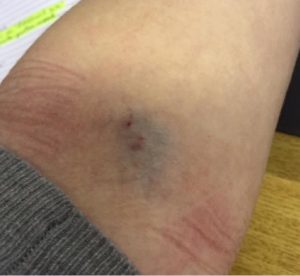 I've been told that the nurse shouldn't persist past three attempts, but as it's not unusual to take five attempts before we get a little dribble of blood, I put up with it so I can at least have the blood drawn. I've also been told that once the needle is in, it shouldn't be moved around, but this happens. You're meant to take it out and start again if necessary.
Is There a Thyroid Link?
I have wondered if there was a link between thyroid problems, poor circulation, adrenal problems etc. and issues having blood taken, so I asked in my Facebook group a while back, and many people replied saying they did indeed have the same issue. So I did some researching online.
I only had to google 'problem having blood taken' and links for thyroid sites came up. But nothing was conclusive. There doesn't seem to be any known direct link, but a lot of people are noticing a trend.
Yes, I've Tried All The Things 
always drink plenty of water, so it's not caused by dehydration. I walk to the doctors (going up two steep hills to get there) so I'm very warm on arrival and have blood pumping well. So it's not that either!
Some have said that it depends entirely on the nurse and how good they are at finding my veins, however, it has gotten a lot better over the last year to get my blood and I now can't remember the last time the nurse struggled to draw any. I've gone from it taking five attempts to them getting it on the first try every time now. And that's hugely appreciated!
So what have I done differently?
Honestly, in the past year or two since the change, I've been a lot more focused on gut health. My functional medicine practitioner addressed the Candida (yeast overgrowth which a lot of us hypothyroid people have), leaky gut, adrenal stress (high cortisol) and oestrogen dominance (too much oestrogen). A UK test for Candida can be found here and a US test here.
My diet is protein and healthy fats focused. I take probiotics, digestive enzymes, bone broth and focus on trying to keep my gut healthy and balanced. Not only have my menstrual cycles normalised with all of this, but my skin (acne) has improved, fatigue pretty much disappeared, bowel movements regulated, circulation improved (no more cold intolerance) and I can't help but think it's all linked.
Do you experience the same struggle with having blood drawn?