Click here to listen to a reading of this blog:
The Nourished Thyroid is a thyroid nutrition cookbook suitable for all lifestyles and all thyroid conditions, written by thyroid nutrition expert, Nicole Morgan, RDN, LD, CLT, AKA The Thyroid Dietitian.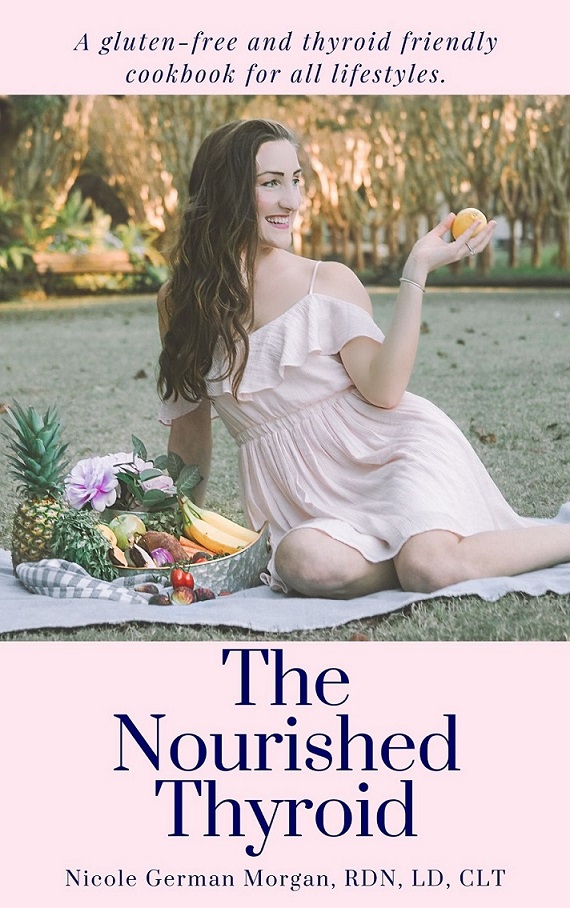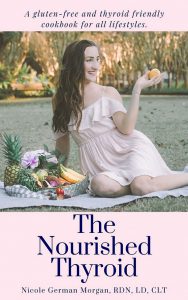 Nicole has Hashimoto's herself and works with other thyroid patients to help them reclaim their quality of life. As explained in the introduction of her cookbook, she lives an active and fulfilling life instead of feeling unwell due to Hashimoto's, as she has managed to reduce most of her symptoms significantly. She shares how what she eats and drinks has helped with this, via the cookbook.
I may reference back to this book and what I've learnt from it throughout my blog posts. 
The breakfast recipes (including gluten-free pancakes!), smoothies, soups, salads, meat, fish and vegan dishes, sides, desserts (including cakes and cupcakes) are all designed to be nutrient dense. (And tips on reducing sugar in several dessert recipes in particular are given.) The photos included are mouthwatering and Nicole would be very welcome to visit me with her creations any time!
As Nicole explains, many of us with thyroid issues are low in many nutrients, vitamins and minerals, which she aims to help address through her recipe suggestions. She also covers leaky gut (which can contribute to poor vitamin levels), as well as why so many of us with thyroid conditions benefit from being gluten-free. The cookbook is suitable for those who have had their thyroid removed, have Hashimoto's, Graves' Disease, hypothyroidism or hyperthyroidism. All recipes are soy-free, gluten-free, and dairy-free (or, given a dairy free option). Many can be adapted to vegan recipes, with suggestions given. Many are also egg-free.
If you are not sure where to start with food when you have a thyroid condition, then this cookbook has a welcoming introductory guide on where to begin, and includes explanations of possible triggers of thyroid conditions. The importance of paying attention to your diet when managing a thyroid condition is emphasised.
Most of the recipes take a quick 10-minutes to create, but some slightly longer ones are also included, perhaps for when your health starts to pick up and you feel thyroid symptoms coming under better control.
Nicole includes an explanation and guide on special ingredients, a shopping list which aims to make it easy to stock your kitchen with what you need, and nutritional information on each recipe. I liked the notes next to recipes which suggested things such as which meals can be frozen or how leftovers can be  best utilised. I'm particularly excited to try the smoothies as they look absolutely delicious.
I am also asked often about bone broth recipes, and there is a simple one included in this book.
As with all cookbooks, I would have liked more photos of the dishes so that I could see what I'm trying to create, but I did like the simplicity of this recipe book and how non-overwhelming it makes eating well with a thyroid condition.
You can get a copy of this book from Amazon on the link below.
What do you think of this thyroid cookbook? Have you tried it?
You can click on the hyperlinks in the above post to learn more and see references to information given.