The Invisible Hypothyroidism isn't the only source of information out there, for thyroid patients. Heck, before I started this website I read up about my new diagnosis and what it meant, on what must have been hundreds of websites and articles.
However, filtering websites to find the ones you know you can trust and provide reliable info can be daunting, so I've summed up my favourite sources of information below. You'll probably have also noticed that I reference back to and feature a lot of these sources regularly throughout my blogs and writing, too.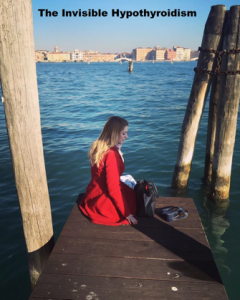 In no particular order:
The National Academy of Hypothyroidism
The NAH is a non-profit, multidisciplinary medical society dedicated to the dissemination of new information on the diagnosis and treatment of hypothyroidism, mainly in the USA. It is run by a group of thyroidologists, headed by Kent Holtorf M.D., David Brownstein, M.D., Denis Wilson, M.D., Michael Freidman, N.D., and Mary Shomon. Articles and blogs on all things thyroid are written in an easy to understand manner.
Dr Nikolas Hedberg is a well respected and praised functional medicine doctor. With lots of great articles, blogs and even podcasts on his website, he dedicates a lot of his time to even helping those who aren't his patients.
Mary Shomon: Thyroid Patient Advocate

Mary Shomon doesn't have a website as such but has a very popular Facebook page and writes for various websites though most noticeably VeryWell.com. Once a hyperthyroid patient who had her thyroid ablated, she's an advocate for both underactive and overactive thyroid patients. Mary Shomon has a few very popular books:
Living Well with Hypothyroidism
The Thyroid Diet Revolution
The Thyroid Diet
STTM focus mainly on the power of Natural Desiccated Thyroid for the treatment of hypothyroidism and is built on patient experiences, encouraging thyroid patients to share their stories and learn from one another. STTM's book is hugely popular (can be found here) and often referenced to and used as a 'bible' from many thyroid patients taking their health back in to their own hands. I credit STTM with my confidence in switching my medication from Levothyroxine to NDT, which has made a lot of difference to my quality of life.
Dana at Hypothyroid Mom was just a regular woman who had gone through a traumatic experience because doctors failed to monitor her hypothyroidism correctly, resulting in her losing her unborn child. So she began blogging and advocating in pursuit of changing thyroid treatment and subsequently, lives. She covers all sorts in the articles on her site, but takes a functional medicine viewpoint, often featuring doctors as content providers. Hypothyroid Mom wrote a book with Mary Shomon (can be seen here).
Although not as active as other thyroid advocates and writers, Thyroid Mom does have some very thought provoking blogs on congenital hypothyroidism (when it is present at birth) and the effects of this on the child and parents.
Thyroid UK are my top choice for a Thyroid Charity here in the United Kingdom. They work on improving the diagnosis and treatment of thyroid disease and are often at the front of campaigns and studies. I've fundraised for them for the past couple of years and trust them completely.
Thyroid Nation focuses on uplifting readers with positive articles and stories that present information learnt from personal experiences. A lot of the articles are also based around lifestyle changes and factors that can greatly improve thyroid health.
Another UK charity, TPA is an independent organisation that also work towards establishing better diagnosis and treatment of hypothyroidism in patients. Dr Barry Durrant-Peatfield is a Trustee and Dr Kent Holtorf a Medical Adviser. There are countless hugely informative articles written by various doctors and healthcare professionals on the site, with information for both patients and doctors.
Sick to Death is a project by Maggie Hadleigh-West; a film exposing the corruption in the medical world, surrounding thyroid disease. Maggie works tirelessly, seeking to improve the medical establishment's response to thyroid disease. Sick to Death is a brazen call-to-action film, which seeks to understand and change this disturbing medical reality.

Thyroid change is an organisation that seeks to improve the diagnosis and treatment of thyroid conditions. They are a grass-roots movement for better thyroid care. Thyroid Change have a website full of useful articles written by doctors.
Thyroid Pharmacist, Dr. Izabella Wentz
Izabella Wentz is a well respected pharmacist who also developed Hashimoto's and hypothyroidism. Through her own determination and knowledge as a medical professional, she has managed to reverse her autoimmune condition and now lives medication free, by implementing several lifestyle and diet changes. She has a very large following on Facebook especially and her books are loved by many patients;
Hashimoto's Protocol
Hashimoto's Thyroiditis
Although currently not as active as she has been, Miss Lizzy's site still has quite a bit of useful information and resources. She was one of the first thyroid bloggers I came across when googling my new diagnosis and I found her articles answering common hypothyroid patients' questions really helpful. She has a whole section on Adrenal Fatigue and another on food and recipes that promote good thyroid health.
This site contains lots of articles about the science and biology behind hypothyroidism and various issues with T4-only medication and things that conventional medicine practitioners may be missing. Extracts from this site are credible enough to present to your doctor in confidence.
Hashimoto's 411's goal is to educate and empower Hashimoto's patients to treat the underlying autoimmune condition and thereby reduce symptoms and prevent further decline in health. They have a forum that Hashimoto's patients can use for support, as well.
I discovered Thyroid Transitions on Instagram at first but soon fell in love with their blog and website. Nadha was diagnosed with thyroid cancer whilst at university and so she writes from a personal but warm perspective, with her mother on some posts, to guide you to learning to live with thyroid disorders.
Tired Thyroid was created by Barbara Lougheed, a patient who was left hypothyroid after radioactive iodine treatment for Graves' hyperthyroidism.  Her goal is to educate people about the fallacies that exist about thyroid treatments.  Her book boasts great reviews;
Tired Thyroid: From Hyper to Hypo to Healing
The Holtorf Medical Group specialises in optimising quality of life and being medical detectives to uncover the underlying cause of symptoms, rather than just prescribing medications to cover-up the symptoms. Therefore, their website showcases this level of  knowledge with scientifically backed up articles which are shared often across social media sites.
The website Autoimmune Mom was born out of a frustration from a lack of online information about autoimmune conditions.  Believing there must be a way to develop content that dug into current research and examined deeper questions, the site began to take shape. The website answers many frequently asked questions when you live with a autoimmune disease such as Hashimoto's.
---
Written by Rachel, The Invisible Hypothyroidism