Click here to listen to a reading of this blog:
This post may contain affiliate links, to find out more information, please read my disclosure statement. As an Amazon Associate I earn from qualifying purchases.


Bear Hugs is a company I've been aware of for a couple of years, when it was still fairly new.
I've sent countless Bear Hugs gift boxes to friends going through a tough spot, poor health or other stressful time and they have always gone down really well.
I obviously saw what they looked like to receive on the Bear Hugs website as well as in the photos my friends took of them when they arrived, but I'd never received one myself or seen them in real life. Until recently.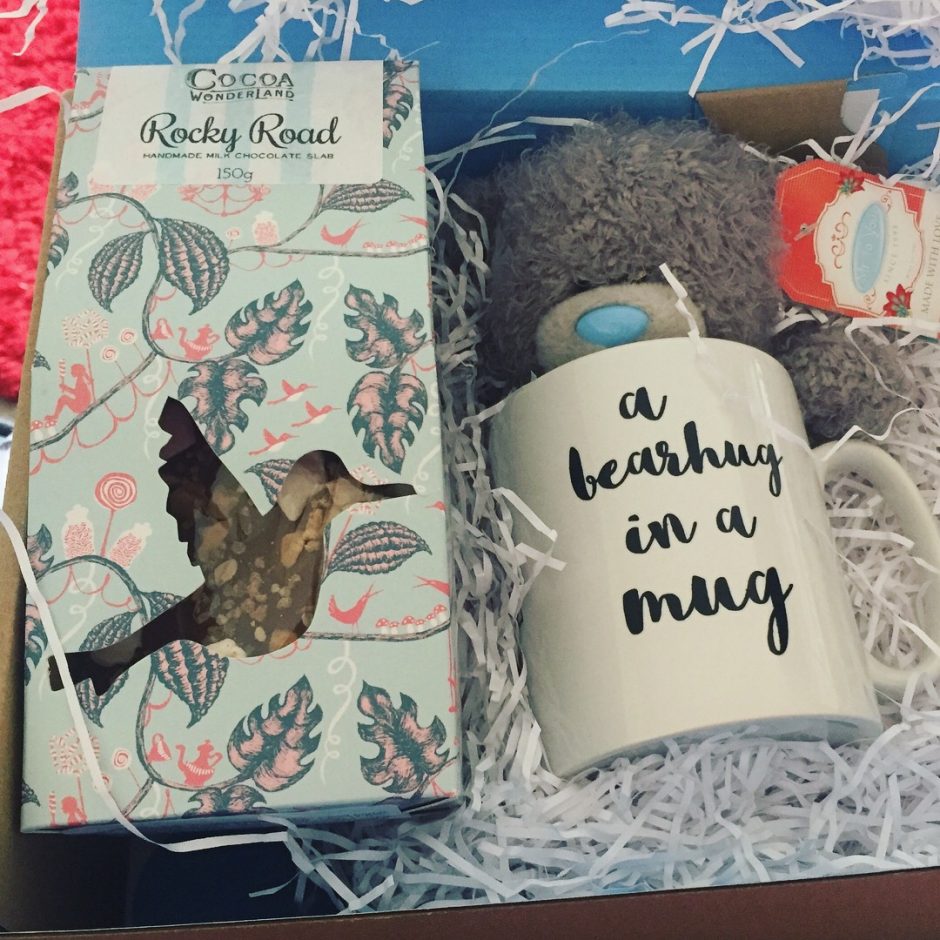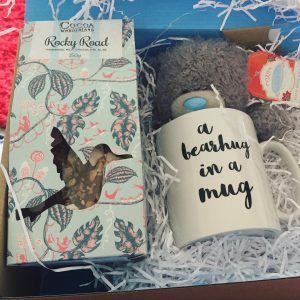 I've not hidden the fact that I've been struggling lately, with both my physical and mental health, on my blog and it took me a while to open up to friends about it. I felt ashamed and a failure, but one by one, I turned to them as I reached the darkest and lowest point yet and explained how I was struggling to just get by day to day.
In mid-July, I got home from a tough day at work to find a red Royal Mail card on the doormat and was confused – I wasn't waiting for anything to arrive from online, but it was addressed to me. Whilst at a doctor's appointment, my other half went to pick it up for me from the post depot and when I got home, I saw a blue box sat on the stairs. I knew immediately that it was a Bear Hug from the packaging, and, knowing what a Bear Hug gift box was, I hurriedly rushed to open it on the sofa.
Now, let me tell you that these boxes are wrapped wonderfully, with a durable cardboard box, tissue paper and even bear arms that open on the box like a real hug! The thought that has been put into the design and packaging is great, but the contents are even more well thought out.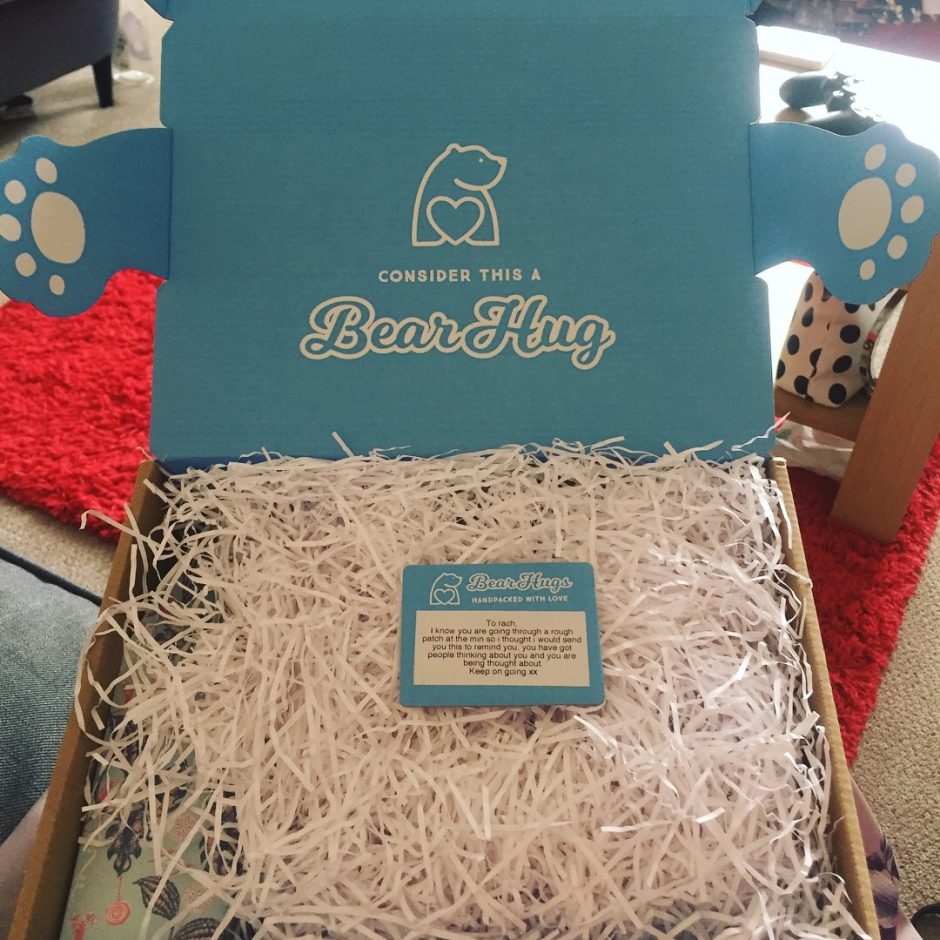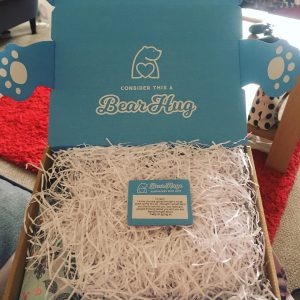 I received some lovely chocolate (which was gluten-free, too – woohoo), a smart mug and gorgeous blue nose teddy bear. I was really touched that someone had thought to do this for me, gone to the effort and spent money sending me such a thoughtful surprise in the post. And I love receiving cards and surprises in the post.
The contents had been especially chosen for that particularly tough time I was going through – a cuddly toy for comfort, chocolate for a treat and a mug for warm, soothing cups of tea. When I've ordered them in the past, I've had movie night themed boxes sent to film buff friends and I've used the 'create your own' option too, putting together my own contents to suit that specific person.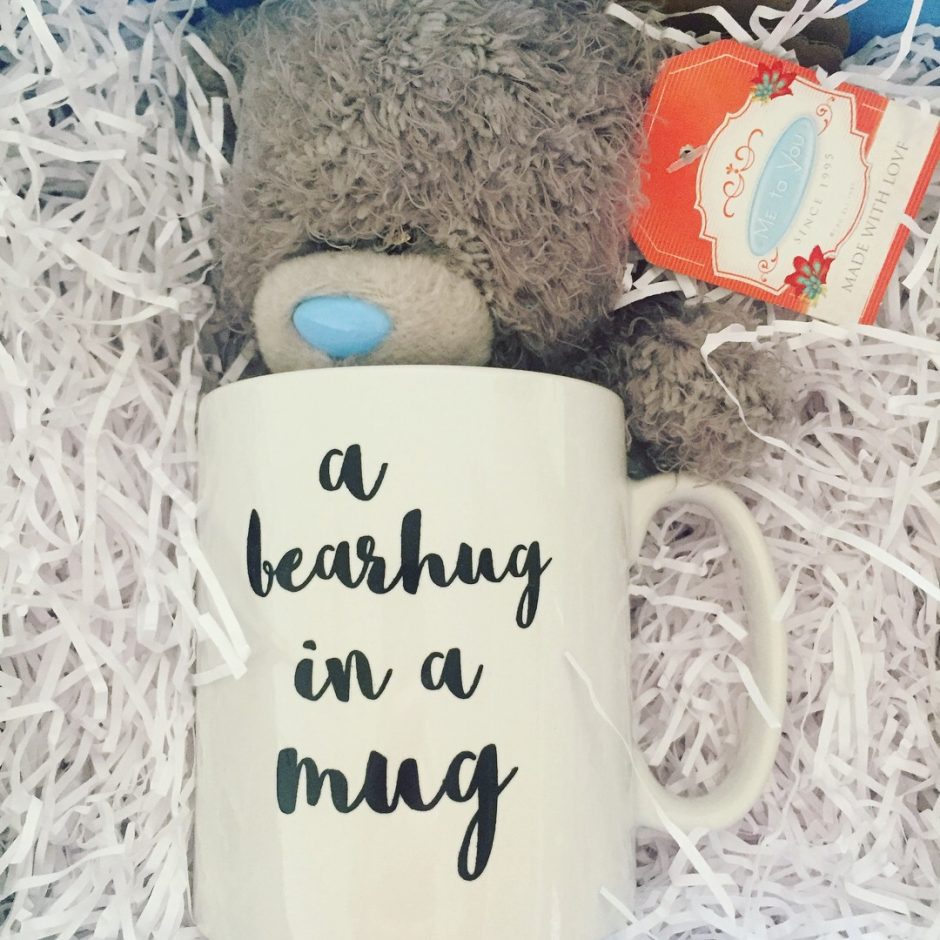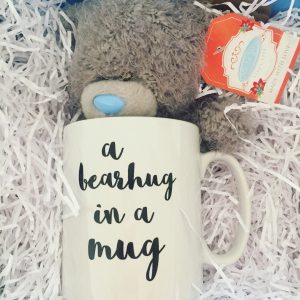 The gift packages are such a lovely idea; perfect for saying Congratulations, Get Well Soon, Thinking of You, Happy Birthday, Thank You and just about any other reason you can think of for showing someone that you care. They deliver all the warmth and comfort of a hug when you can't be there personally.
And for a friend to send this to me was so thoughtful and kind. It took me a while to figure out who sent it but I managed to crack the code and thank her personally!
I would absolutely recommend Bear Hugs.
Have you heard of Bear Hugs before?
You can click on the hyperlinks in the above post to learn more and see references to information given.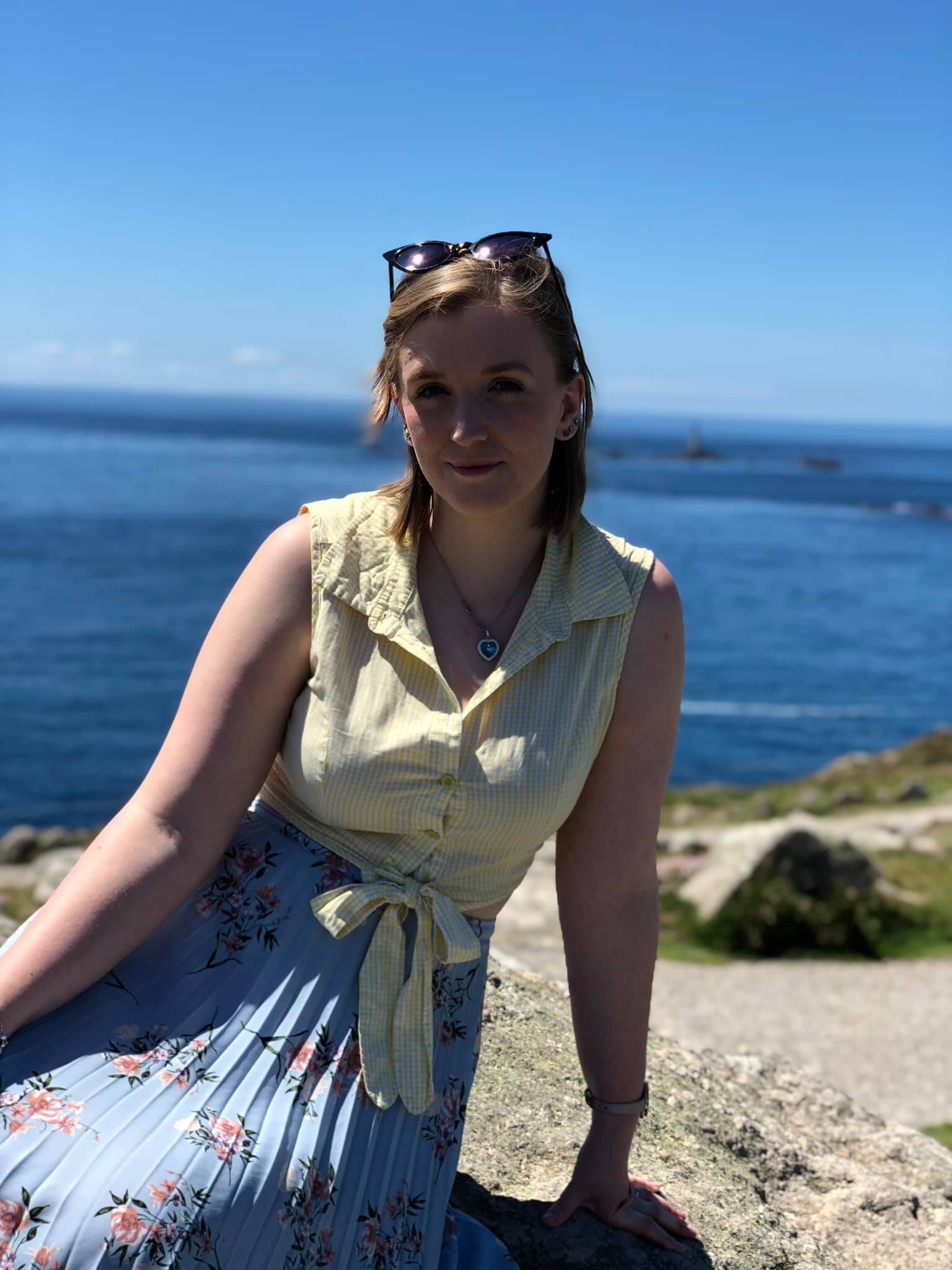 Rachel Hill is the highly ranked and multi-award winning thyroid patient advocate, writer, speaker and author behind The Invisible Hypothyroidism. Her thyroid advocacy work includes authoring books, writing articles, blogging and speaking on podcasts, as well as being a board member for The American College of Thyroidology and The WEGO Health Patient Leader Advisory Board. Rachel has worked with The National Academy of Hypothyroidism, The BBC, The Mighty, Yahoo, MSN, ThyroidChange and many more. She is well-recognised as a useful contributor to the thyroid community and has received multiple awards and recognitions for her work and dedication. She has authored two books: 'Be Your Own Thyroid Advocate' and 'You, Me and Hypothyroidism'. Rachel is British, but advocates for thyroid patients on a global scale.