Click here to listen to a reading of this blog:
Exciting news, my book is finally here! New to learning about your thyroid health? Learn why it's important to be your own health advocate in my book now.
Check it out on Amazon.
So, you're thinking of switching over to NDT, or your doctor is willing to prescribe it for you. You were on X amount of T4-only meds, or maybe T3 meds, so how do you know how much NDT to take? How do you dose NDT?
The important thing to know is that there isn't a straight comparison of one thyroid medication to another. Because T4-only meds like Levothyroxine and Synthroid are just that, T4-only, there's no way to know how much NDT you will need, which contains T1, T2, T3, T4 and Calcitonin, when you were only on T4 before. 
I raised my NDT as per STTM guidelines shown here: NDT Hypothyroidism Guide
STTM state:
"Those who start on natural desiccated thyroid (one grain is common) report that it's wise to raise by 1/2 grain every two weeks or less to prevent hypothyroid symptoms from returning due to suppression of the internal feedback loop in the body, which can happen if we stay on a low dose too long before raising.

Most patients start to slow those raises down as they are approaching the 3-grain area or less, not necessarily because it's their optimal dose, but to give the T4 time to build (which can take 4-6 weeks) and show its conversion-to-T3 results…then inch their way up if needed with their doctors assistance.  Labs are usually needed around this time. Some patients end up in the 3-5 grain area when optimal, some on less, and some on more. It's very individual."
An example of how to take NDT:
You stop raising NDT when you feel well/better and think you're close to optimal. It is crucial you do not take too much or carry on raising without testing your levels. Slow down around the 2 grains (tablets) a day area, to allow it to build in your blood, then have a blood test after six weeks at this dose, to check levels before increasing again. Check TSH, FT3, FT4 and RT3.
Take 1 grain a day for 1-2 weeks.
Take 1.5 grains a day for 1-2 weeks.
Take 2 grains a day for 2-6 weeks.
Take 2.5 grains a day for 2-6 weeks.
Take 3 grains a day for 4-6 weeks. 
Take 4 grains a day for 4-6 weeks. 
Take 5 grains a day for 4-6 weeks. 
And so on, if needed.
(Note that doses should be split in to two doses a day, for example, a starting dose of 1 grain (tablet) a day should be split so half a tablet is taken in the morning and half a tablet mid-afternoon).
You need to listen closely to your body, taking note of symptoms and your body temperature, to know when to raise the NDT, if at all, to the next level of dosage.
How do I know when I'm on enough NDT?
STTM state you're looking for these: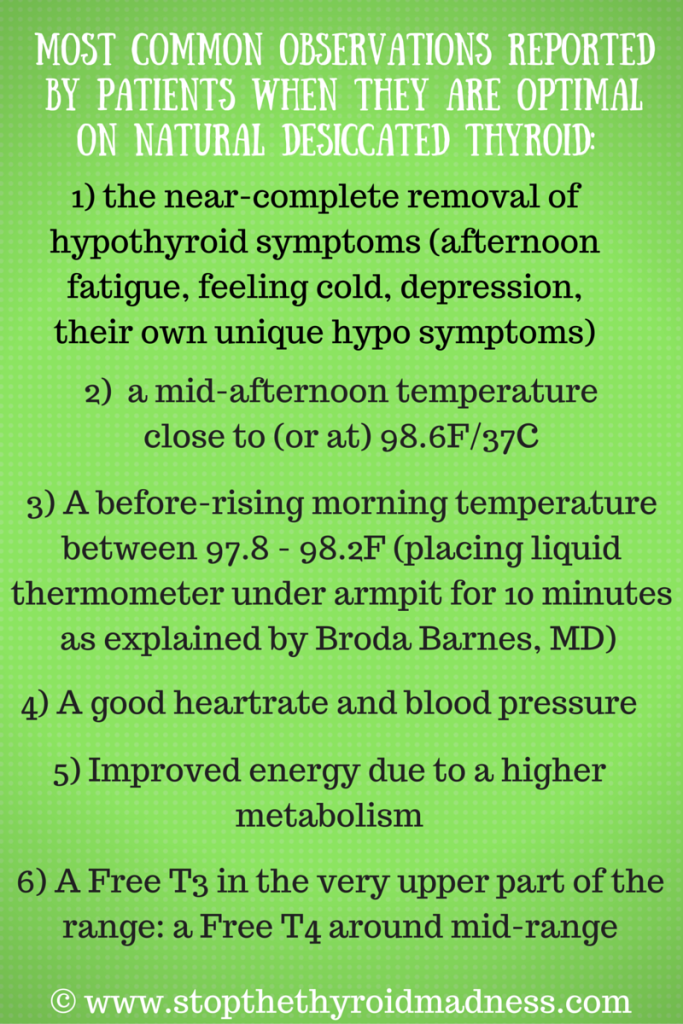 If you still don't feel well on NDT, have a full thyroid panel done, testing TSH, FT3, FT4 and RT3 (TGAb and TPOAB too if possible) to check your levels. These will indicate if you are in fact on enough.
Low iron and adrenal problems can stop NDT from working as well as it should, so you should definitely test these if NDT doesn't seem to be helping you. Ignoring a problem like this will only make matters worse, so it definitely needs addressing. A high FT3 and or abnormal RT3 can indicate issues like these.
I strongly recommend you get the STTM book for all things about using NDT safely.
The best solution is to work with a knowledgeable doctor, and I would always suggest this wherever possible. You must be careful with self-sourcing and self-medicating. It can be dangerous. 
---
You can see my before and after pics on NDT here. 
You can click on the hyperlinks in the above post to learn more and see references to information given.
---
Written by Rachel, The Invisible Hypothyroidism
Social
Community