Click here to listen to a reading of this blog:
This post may contain affiliate links, to find out more information, please read my disclosure statement. As an Amazon Associate I earn from qualifying purchases.


This is one of my favourite dinners to make. It's got so much flavour. You can substitute the rice noodles for regular egg noodles if you're also serving it to someone who isn't gluten-free.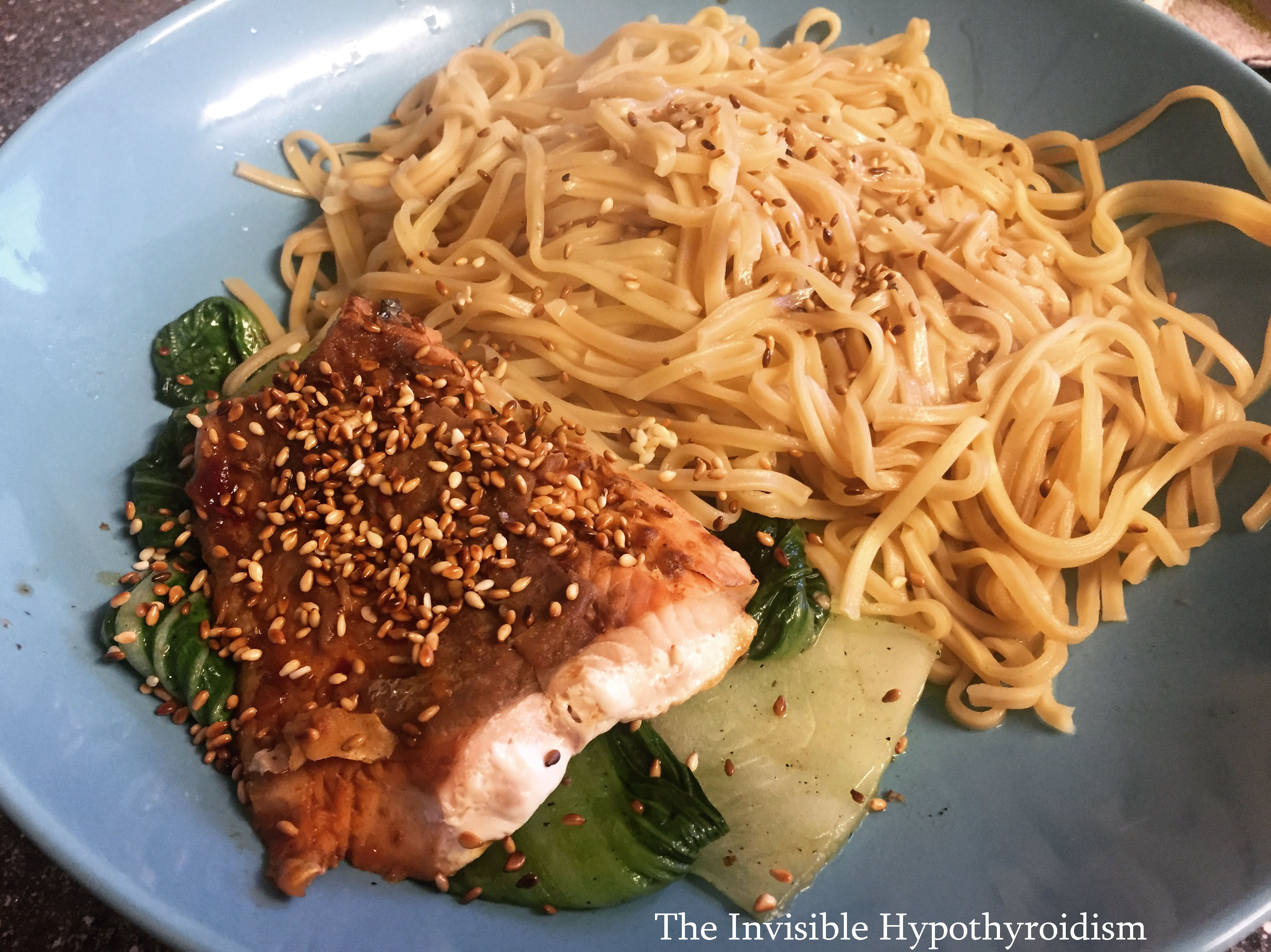 Prep time: 15 minutes
Cooking time: 10-15 minutes
Serves: 2 adults
Ingredients:
For the salmon:
2 fresh skinless salmon fillets / 2 frozen salmon fillets
Spray olive oil
1 tablespoon of sweet chilli sauce (make sure it's gluten-free)
1 teaspoon of sesame oil
1 tablespoon of honey
2 tablespoons of gluten-free soy sauce or liquid aminos if you avoid soy
2 teaspoons of ground ginger
For the pak choi:
2 pak choi
2 teaspoons of sesame oil
2 teaspoons of sunflower oil
3 grated cloves of garlic
1 vegetable stock cube (make sure it's gluten-free)
2 teaspoons of sesame seeds
Rice noodles, to serve
Method:
If you're using frozen salmon fillets, you'll need to put them in the oven to bake. Put them in a baking tray lined with foil and sprayed lightly with olive oil. Follow packaging instructions for temperature and time. If you're using fresh salmon, you can go straight to step 2.
Put the sesame seeds in a wok and heat gently, moving them whilst they roast. When they start to brown, empty them in to a bowl for later use.
Boil the kettle and dissolve one vegetable stock cube in 250ml of boiling water. Set aside.
In a separate bowl or ramekin, make the sauce for the salmon by mixing the sweet chilli sauce, honey, sesame oil, soy sauce and ginger together. Set this aside for later on.
Now you can start on the pak choi. Slice across the base of the pak choi so that the leaves separate, then heat the oils in a wok. Add the garlic shortly after and fry it briefly. About 10 seconds should do. Then add the pak choi leaves (discard the bottom you cut off) and fry for 2-3 minutes until the leaves begin to wilt.
Pour over 150ml of the vegetable stock and then allow the contents of the wok to cook for five minutes, stirring often.
Start cooking your noodles, following packaging instructions. This should take around five minutes, too.
If you're using frozen salmon, remove it from the oven when there is 10 minutes cooking time left on it, and spoon the sauce you made earlier on, all over it. Turning it so you coat both sides. Make sure that any skin is removed before doing this, though. Leave to finish baking for the last 10 minutes. If you're using fresh salmon, simply remove it from packaging, coat in the sauce and bake for 10 minutes at 180c (preheated oven).
Take the pak choi off the heat after five minutes or so and drain the cooked noodles.
When the salmon is ready, serve the pak choi in a large bowl, to one side of the plate, spooning over the sauce from the wok.
Sit the finished salmon on top of the pak choi leaves, also spooning on extra sauce from the dish. Sprinkle the sesame seeds on top.
Serve the noodles to the side and again, spoon over any extra sauce from the wok, over the noodles.
Serve and enjoy!
See some thyroid cookbooks here.
What's your favourite type of cuisine? Let me know below!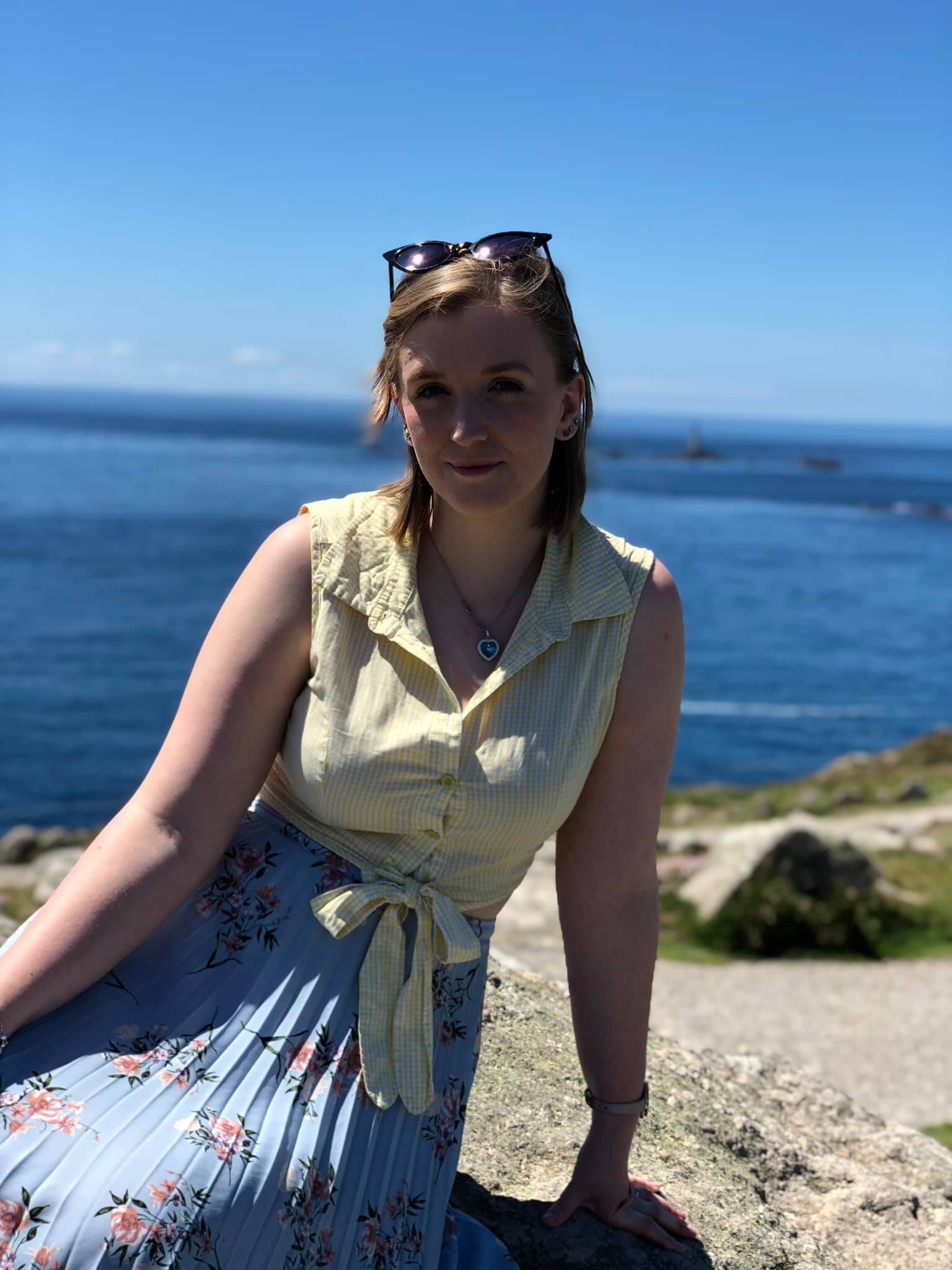 Rachel Hill is the highly ranked and multi-award winning thyroid patient advocate, writer, speaker and author behind The Invisible Hypothyroidism. Her thyroid advocacy work includes authoring books, writing articles, blogging and speaking on podcasts, as well as being a board member for The American College of Thyroidology and The WEGO Health Patient Leader Advisory Board. Rachel has worked with The National Academy of Hypothyroidism, The BBC, The Mighty, Yahoo, MSN, ThyroidChange and many more. She is well-recognised as a useful contributor to the thyroid community and has received multiple awards and recognitions for her work and dedication. She has authored two books: 'Be Your Own Thyroid Advocate' and 'You, Me and Hypothyroidism'. Rachel is British, but advocates for thyroid patients on a global scale.