Click here to listen to a reading of this blog:
Dr. Sara Gottfried's The Hormone Cure looks at her hormone-balancing programme for issues such as sex hormone imbalance, adrenal fatigue and thyroid issues. With a handy questionnaire to help you determine whether you have one or even several of these hormonal issues, this book is easy to digest and down to Earth. 
I'll reference back to this book and what I've learnt from it throughout my blog posts.
I firstly want to commend Sara Gottfried on writing such an easy to read book for those of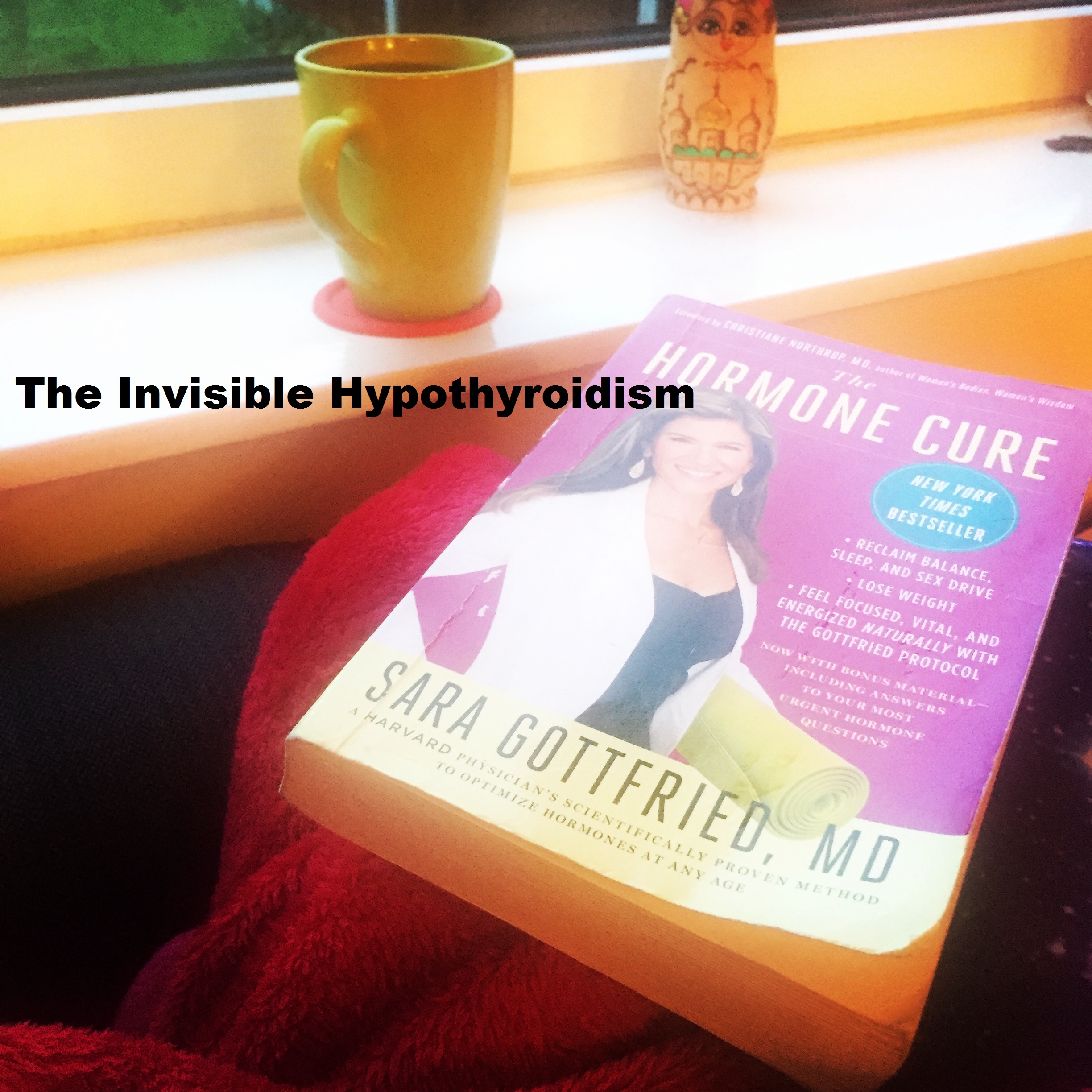 us who suffer from the likes of thyroid brain fog, that is also very informative and packed full of scientific information.
At no point did I feel confused, in over my head or lost, yet I have finished the book feeling more informed about my hormonal imbalances. She writes with a personal touch and frank approach, and her passion for helping women reclaim their zest and enjoyment for life is very clear, even from the first page.
Sara is a Harvard-educated physician, a certified gynaecologist and yoga teacher! Talk about busy. She uses her experience and knowledge in all these areas to provide her expertise in treating hormonal imbalances such as: adrenal dysfunction, sex hormone imbalance and thyroid issues.
The book was easy for me to read, and although it took me a good three or four months to finish (it's so battered, as I've carried it everywhere with me!), this was due to other personal commitments and in no relation to the book content. When I was reading the book, I was whizzing through chapters.
The book starts with Sara's story on how and why she got in to her area of expertise and her own personal experience with hormonal imbalance. From this, I immediately felt I could trust her opinion and solutions. She treats issues from the root cause and is against treating the symptoms alone, but also using comprehensive testing and listening to the patient carefully. I wish she could be my doctor, that's for sure!
The book includes a questionnaire that you can fill out to identify what hormonal issues, if any, you do indeed have. After this, there are dedicated chapters designed to guide you through some self-management and better awareness so you can get started on your path to recovery of said issues.
I found the chapters to be the perfect length, containing just the right amount of scientific info and demonstration of Sara's knowledge, with a touch of playfulness in her approach to encouraging us to be our own advocate and empower ourselves with the info we need to change things for the better.
I liked that she would include the science behind what she was explaining with a pointer next to it indicating that we didn't need to read it, so we could skip straight to the 'how do I fix this issue?' if we wanted to. Personally, I enjoyed reading the sciencey bits. I also enjoyed reading the chapters about hormonal issues that don't affect me.
Being able to skip straight to the chapters you need will be great for many people who don't wan or don't need to bother themselves with information on issues they don't personally struggle with, and it makes it easy to get straight back to the info you want if you're referring back to the book a lot.
Personally, I didn't find the info she shared on hypothyroidism (low thyroid) too groundbreaking, and found that most of it is pretty basic knowledge on how thyroid disease works and happens, but for someone who isn't too knowledgeable on all of this yet, I can imagine it's an interesting read.
It's not too overwhelming either, with just the right amount of info clearly presented. I found that she suggested I had low progesterone (also called oestrogen dominance) and high cortisol, which is exactly what I have (proven through testing) although the book did also suggest low oestrogen, which isn't the case for me.
A lot of symptoms of the different imbalances can be similar so there is some crossover you ought to be aware of. Use the questionnaire with actual testing and your symptoms to diagnose any issues.
Her recommendations on lowering the high cortisol and working on the oestrogen dominance were somewhat different to other source's, although she did confirm a lot of other stuff I have already read elsewhere, too. I am going to reread the chapters in relation to high cortisol and oestrogen dominance and note exactly what I can do to improve these.  I have already implemented a lot of her recommend supplements and switched to a non-BPA water bottle. Go me.
She also promotes the use of yoga for all-round good health and I'm considering it for my high cortisol in particular.
At the end of the book, Sara has a chapter called 'Hormonal Nivana: Staying on Course', which provides as some motivation to actually getting started on correcting your hormonal balances and sticking with it. I found it really uplifting and persuasive. A nice touch.
There is also a handy little table on the vitamins and supplements she recommends for each hormonal imbalance -adrenal dysfunction, sex hormone imbalance and hypothyroidism; as well as a chart on conventional ranges for testing in comparison to optimal ranges. Appendix H also speaks about fertility and the hormonal issues mentioned above.
Overall, I would recommend this book for anyone suspecting they have a sex hormone imbalance, thyroid issue or adrenal issue – which will be a good chunk of the general population, not just thyroid patients. It is particularly helpful to those in their 30's+ and experiencing fatigue, a loss of sex drive, depression etc. as I suspect many in this situation would find it eye-opening and beneficial.
You can get a copy of this book from Amazon on the link below.
Have you read this book? What did you think?
You can click on the hyperlinks in the above post to learn more and see references to information given.