Click here to listen to a reading of this blog:
THIS POST HAS BEEN SPONSORED BY the author®.
Whether or not we should supplement iodine is hotly debated among the thyroid community. Especially those with Hashimoto's.
Here with her opinion on why it is an important supplement to consider, is Louise O'Connor AKA The Thyroid Naturopath.
As always, it is important that you keep your doctor updated on any supplements you plan to take or have started taking and speak to them before supplementing.
---
Written by Louise O'Connor, The Thyroid Naturopath
Since the body needs iodine to manufacture thyroid hormones, this micronutrient is frequently recommended to treat hypothyroidism. However, taking iodine is controversial among the thyroid community, especially for those with Hashimoto's thyroiditis.
Is the ongoing debate confusing? Are you worried too much iodine could spark an autoimmune flare?
Here's what you need to know to help make things a little clearer…
The Surprising Reasons why Iodine Is So Important For Thyroid Health
Over the past two decades, enormous progress has been made globally in our understanding of iodine.
There's little doubt iodine is important for thyroid health. And here's a key point – it's about balanced intake. Not too much, not too little.
You must always test your levels wherever possible before supplementing, too.
Iodine is an essential micronutrient so only trace amounts are necessary to be effective. A deficiency is associated with goitre, hypothyroidism, reduced fertility, and developmental delays in children.
Let's look at some other important iodine facts to help you make informed decisions about taking iodine.
FACT 1: Iodine is a must-have nutrient not only for thyroid hormone production, it's also necessary for thyroid cells to thrive.
FACT 2: Thyroxine (T4) contains four iodine molecules. During the conversion process one iodine molecule is removed and T4 becomes triiodothyronine (T3).
FACT 3: The thyroid is the main iodine storage site. A constant supply is required so this gland acts as a sponge, only absorbing iodine as needed to meet demand.
FACT 5: Iodine supplements generally supply microgram quantities. Be aware milligram doses far exceed standard recommendations. It's important to know 1000 micrograms = 1 milligram.
FACT 6: Foods rich in iodine include sea salt, seaweed, saltwater fish, eggs, and vegetables grown in soil with adequate iodine.
FACT 7: Iodine has remarkable benefits, not just for thyroid. It supports immunity, maintenance of breast health, and is good for men's prostate health. If you're not maintaining optimal iodine levels it could inadvertently hinder overall health.
How Much Iodine Is Safe?
Currently, healthy people are advised to get 150 micrograms of iodine daily from food and supplements.
Functional medicine doctors and Naturopaths may prescribe 150-300 micrograms per day in the form of potassium iodide to support optimal thyroid function.
Typically, they also consider prescribing zinc and selenium.
The reason?
Zinc and selenium work in synergy with iodine to aid efficient conversion of T4 to T3. In addition, the iodine-selenium balance is crucial.
The Iodine-Selenium Balance
Selenium is a powerful antioxidant that safeguards the thyroid from oxidative stress. As you may know autoimmune thyroid disorders are associated with excessive oxidative stress. Furthermore, when selenium is low the thyroid is more susceptible to the undesirable effects generated by excess iodine intake.
The Bottom Line:
Remember, you don't need to go overboard with iodine to help optimise thyroid function. Taking a safe amount also minimises your risk of an autoimmune flare. It's also wise to consider other essential micronutrients such as selenium and zinc. Finally, we all have unique nutritional needs so speak to your healthcare practitioner before fine-tuning your dietary supplement protocol.
By Louise O'Connor, The Thyroid Naturopath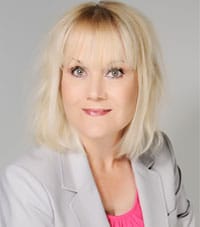 Louise O'Connor, aka The Thyroid Naturopath. Louise's hypothyroid diagnosis and journey back to wellness ignited a passion to create greater awareness of the importance of optimal thyroid health from her unique Naturopathic perspective. In 2011 Louise formulated ThyroSynergy® to help make a difference to those struggling with hypothyroidism. This top selling supplement supplies ten synergistic vitamins and minerals to recharge vitality, and enhance emotional well-being.* Louise is also the author of the popular e-Book: The Natural Thyroid Diet. Your Holistic Guide to Living Well, Living Vibrantly. (2018 Edition).
References:
Braun L, Cohen M. Herbs and natural supplements: an evidence-based guide, 3rd ed. Iodine Monograph. Page 614-622. Churchill Livingstone. 2007.
Eastman CJ, Zimmermann MB. The Iodine Deficiency Disorders. [Updated 2018 Feb 6]. In: Feingold KR, Anawalt B, Boyce A, et al., editors. Endotext [Internet]. South Dartmouth (MA): MDText.com, Inc.; 2000. Available from: www.ncbi.nlm.nih.gov/books/NBK285556/
Eschler DC, Hasham A, Tomer Y. Cutting edge: the etiology of autoimmune thyroid diseases. Clin Rev Allergy Immunol. 2011;41(2):190–197.
Kargar S, Shiryazdi SM, Atashi SR, Neamatzadeh H, Kamali M. Urinary Iodine Concentrations in Cancer Patients. Asian Pac J Cancer Prev. 2017;18(3):819–821.
Lacka K, Szeliga A. Significance of selenium in thyroid physiology and pathology. Pol Merkur Lekarski. 2015 Jun;38(228):348-53.
National Institutes of Health. Medline Plus. Herbs and Supplements. Iodine monograph. National Library of Medicine. National Institutes of Health (NIH), USA. Updated 20 December, 2018.
National Institutes of Health (NIH). Office of Dietary Supplements. USA. Iodine. Fact Sheet For Consumers. Updated: February 17, 2016.
Panth P, Guerin G, DiMarco NM. A Review of Iodine Status of Women of Reproductive Age in the USA. Biol Trace Elem Res. 2019;188(1):208–220.
Rappaport J. Changes in Dietary Iodine Explains Increasing Incidence of Breast Cancer with Distant Involvement in Young Women. J Cancer. 2017;8(2):174–177. Published 2017 Jan 13.
Rayman, MP. Multiple nutritional factors and thyroid disease, with particular reference to autoimmune thyroid disease. Proc Nutr Soc. 2019 Feb;78(1):34-44.
Tomer Y, Huber A. THE ETIOLOGY OF AUTOIMMUNE THYROID DISEASE: A STORY OF GENES AND ENVIRONMENT. Journal of autoimmunity. 2009;32(3-4):231-239.
Wang B, Shao X, Song R, Xu D, Zhang J. The Emerging Role of Epigenetics in Autoimmune Thyroid Diseases. Frontiers in Immunology. 2017;8:396.
Yaofu Fan, Shuhang Xu, Huifeng Zhang, et al. Selenium Supplementation for Autoimmune Thyroiditis: A Systematic Review and Meta-Analysis. Int J Endocrinol. 2014; 2014: 904573.
If you would like to submit a guest post, whether you're a thyroid patient, doctor or anyone else, please get in contact. 
You can click on the hyperlinks in the above post to learn more and see references to information given.