Click here to listen to a reading of this blog:
Exciting news, my book is finally here! New to learning about your thyroid health? Learn why it's important to be your own health advocate in my book now.
Check it out on Amazon.
This is a real winter warmer and perfect for using those seasonal veggies such as pumpkin.
As it mainly just uses vegetables, it should be safe for those avoiding gluten, milk, eggs, nuts and soya, but do check the labels of any ingredients you use.
Prep time: 20 minutes
Cooking time: 40 minutes
Serves: 2 adults
Ingredients:
1 tablespoon of olive oil
1 leek, cut in to halves length-ways and then sliced
2 garlic cloves crushed or the equivalent prepared GF jarred crushed garlic
500g white potatoes, peeled and chopped in to roughly 2cm chunks
500g pumpkin/butternut squash, peeled and chopped in to roughly 2cm chunks (exclude seeds)
3 GF Vegetable stock cubes
Finely chopped chives, to serve
Optional: Salt and pepper, GF bread roll to serve
Method:
Heat the oil in a fairly large saucepan over a medium heat, then add the chopped leek and garlic, allowing it to cook whilst stirring for two minutes.
Reduce the heat to low and cover the pan with a lid, still checking it occasionally, ensuring nothing is burning, and stirring.
Once the leek is soft, usually after around 5 minutes, remove from the heat.
Using the vegetable stock cubes, make up 3 separate cups of vegetable stock and add it to the pan, also adding in the chopped potato and pumpkin/squash.
Bring to the boil.
Reduce the heat and simmer, partially covered, for 25 minutes, or until the vegetables are nice and soft.
Allow the mixture to cool for 5 minutes before pureeing it in a blender/food processor until nice and smooth.
Add seasoning if required, such as salt and pepper.
Once poured in to serving bowls, sprinkle with chives and serve with gluten free bread (optional).
To give it a real kick, try adding a little chilli powder.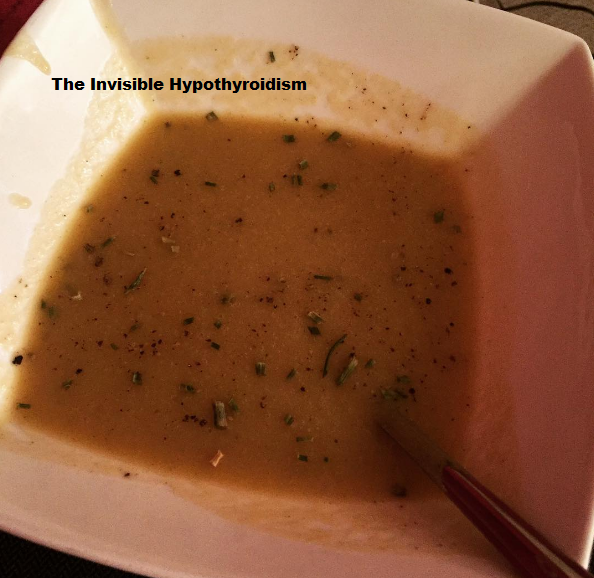 ---
Written by Rachel, The Invisible Hypothyroidism
Social
Community
Rachel Hill, Thyroid Patient Advocate, blogger and author, has Six 2018 WEGO Health Award Nominations. She is a highly ranked writer appearing in the Top Hypothyroidism Websites and Top Thyroid Websites 2018, with relevant qualifications and certificates in Diet and Nutrition, whilst also currently studying Life Coaching, Motivational Speaking, Reflexology and more. She has worked with The National Academy of Hypothyroidism, The BBC, The Mighty, Dr. Hedberg, Yahoo, MSN and ThyroidChange, to name just a few. She is well recognised as a useful contributor to the thyroid community and has also contributed a foreword to Emily Kyle's The 30-Minute Thyroid Cookbook.