I have a thyroid joke I and a friend (who also has hypothyroidism), created. I think it's genius.
"How did they treat hypothyroidism in the old days?
Better than they do now!
(Ba-dum-TSH!)"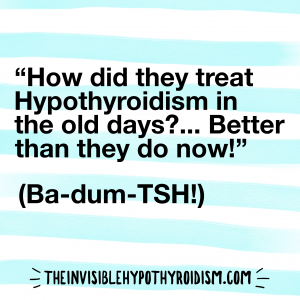 If you don't understand why it's funny, it's because the medicine widely used now, T4-only meds like Levothyroxine and Synthroid, have a low success rate. In Thyroid UK's study last year, they found that it only provided complete relief of hypothyroid symptoms to just 7% of people. How bad is that?
Back in the 'old days', over 100 hundred years ago, hypothyroidism was treated with a different medicine called Natural Desiccated Thyroid (NDT). The success rate was very high, and as such, people these days make the switch from their Levo or Synthroid to NDT and feels LOADS better. The problem is that most docs either don't know about it or think it's some kind of dangerous, scary drug.
It's also funny because the punchline drum sound also spells TSH, which we all know is the inadequate way to test thyroid function.
You can read more on the history of NDT here.
You can click on the hyperlinks in the above post to learn more and see references to information given.
---
Written by Rachel, The Invisible Hypothyroidism
Social
Community
Rachel Hill, Thyroid Patient Expert and Advocate, blogger and author, has Six 2018 WEGO Health Award Nominations. She is a highly ranked writer appearing in the Top Hypothyroidism Websites and Top Thyroid Websites 2018, with relevant qualifications and certificates in Diet and Nutrition, whilst also currently studying  Life Coaching, Motivational Speaking, Reflexology and more. She has worked with The National Academy of Hypothyroidism, The BBC, The Mighty, Dr. Hedberg, Thyroid UK and ThyroidChange, to name just a few. She is well recognised as a trusted and useful contributor to the thyroid community.