Click here to listen to a reading of this blog:
THIS POST HAS BEEN SPONSORED BY ThyroSynergy®. ALTHOUGH AS ALWAYS, ALL THOUGHTS AND OPINIONS ARE MY OWN.
I get asked often if I recommend any particular multivitamin for thyroid patients. I always say that as each of us are so different and in fact unique beings, needs differ from person to person and as such, I couldn't recommend the same one for everyone. 
However, I do think it is important to demonstrate the options available if you are considering a multivitamin for thyroid health and so I agreed to trial and review ThyroSynergy®. 
What is ThyroSynergy®?
ThyroSynergy® was created by Louise O'Connor The Thyroid Naturopath. Louise's mission is to create greater awareness of the vital importance of optimal thyroid health.
As many of us know, not all thyroid supplements are created equal, and so finding ones that truly work for us can be time-consuming.
What is in ThyroSynergy®?
ThyroSynergy® contains ten vitamins and minerals which are considered important for thyroid health. They contain no animal glandular extracts and are gluten, soy and dairy free.
Each capsule contains:
Iodine
Zinc (important for the conversion of the stored thyroid hormone T4, to the active T3)
Selenium (also important for conversion)
Thiamine (B1)
Riboflavin (B2)
Niacinamide (B3)
Pantothenic acid (B5)
Pyridoxal 5-phosphate (active B6)
Methylcobalamin (methyl B12)
Quatrefolic® methyl folate
The Iodine Debate 
Supplementing iodine is rather controversial among the thyroid community. However, ThyroSynergy® includes it as Louise feels it's a must-have due to it being required for the creation of thyroid hormones.
My Experience 
I was sent a complimentary bottle of ThyroSynergy® to try for myself, so I gave it two weeks to see what I thought. The bottle says to take one tablet twice a day but as I don't usually take iodine, I stuck with just the one tablet a day, taking it at breakfast.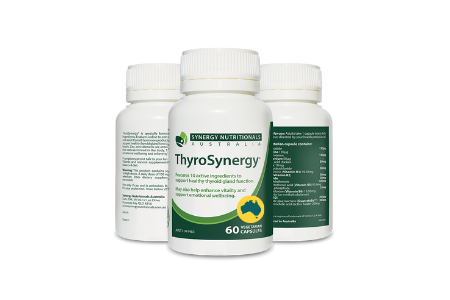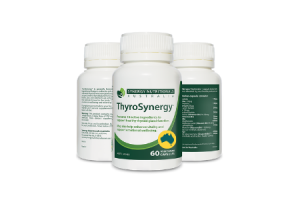 After two weeks, my skin had improved in terms of feeling less dry and more soft and a small patch of eczema next to my nose had cleared up. This had been  bugging me for a while! I didn't notice a huge increase in energy as many other testimonials online claimed, but then again my health is in a very good place at the moment and I have good energy levels daily anyway. A lot of others also praise it for stopping or lessening their hair shedding.
I didn't have any side effects to it but did have the pleasant surprise of a boost in my mental health. Mornings can be tricky for me, but I felt more motivated to start the day. I have also been sleeping better.
ThyroSynergy® is currently available for those in the USA, Australia and New Zealand via the website or Amazon Australia.
***
You should consult your doctor before taking any supplements as they can assess your individual requirements. If they decide it is suitable, you should not consider it a replacement for your prescribed thyroid medication. All pregnant women should consult a doctor before making any changes to their health regimen.
Testing of all vitamin and mineral levels is recommended before starting any supplements as high levels can be dangerous.
Also, the same experience for everyone is not guaranteed. ThyroSynergy® is not suggested for those with a diagnosed over active thyroid disorder as it contains iodine.
Always talk to your qualified healthcare practitioner before beginning any new nutritional product, diet, exercise or health program. Supplements may only be of assistance if dietary intake is inadequate. Always read the label. Follow the directions for use. If symptoms persist, talk to your healthcare professional.