Click here to listen to a reading of this blog:
I'm not a stranger to ordering my own lab tests. I've had several done before and have used a few different online labs for them. Some I've had a much better experience with than others.
I have been aware of Medichecks, an online blood test lab service, for a couple of years now but had never used them myself, although I'd heard plenty of positive reviews from fellow thyroid patients regarding ease of testing and a fast turnaround.
When I had the latest appointment with my functional medicine practitioner at the end of March, she suggested that now was a good time to test my thyroid panel again, antibodies to look at the Hashimoto's (my GP had only ever tested them upon diagnosis three years ago) and some vitamins such as B, D, Iron, Ferritin etc.
Weirdly enough, Medichecks got in touch with me just a week or so after this appointment, before I'd ordered any tests and asked if I'd be interested in trying their Tiredness and Fatigue Check Plus for free, in return for an honest review about it. I happily said yes and couldn't believe my luck for the timing, then waited for the test to arrive in the post.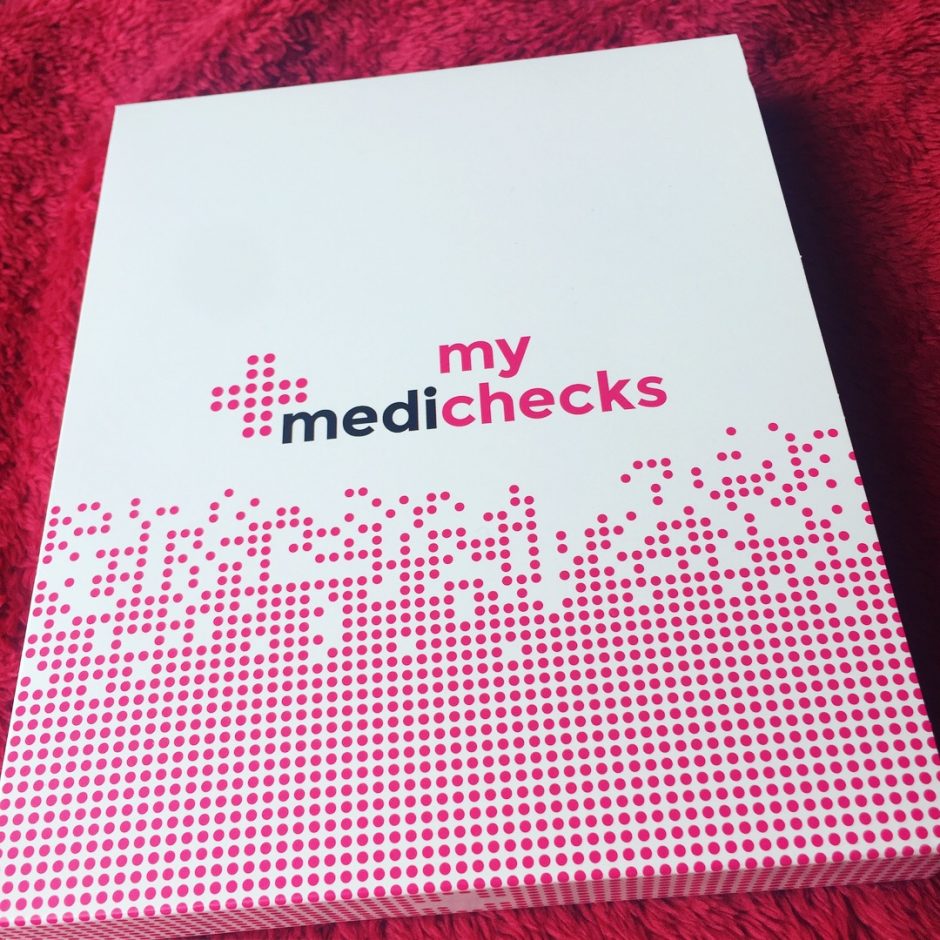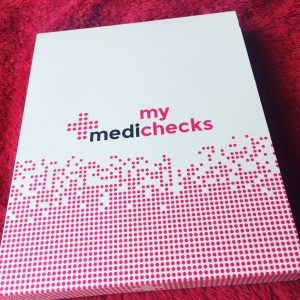 Medichecks is a very popular choice for inexpensive yet comprehensive testing with a fast turn around. Their test kits are even designed so that you can obtain a blood sample from yourself in the comfort of your own home and then pop it back in to the post. You can order the all important thyroid function test, cortisol testing for your adrenals and thyroid antibodies to check for autoimmune hypothyroidism (Hashimoto's).
Note: All my followers get 10% of any full priced tests through the above affiliate links with the code INVISIBLE10 until the 31st December 2019.
The packaging was really smart and everything was laid out really neatly when I opened it. You can tell they've tried to make collecting your own blood sample as simple and stress-free as possible.
The finger prick is done with lancets, simple devices that, once pressed on to a finger, create a simple prick with minimal pain.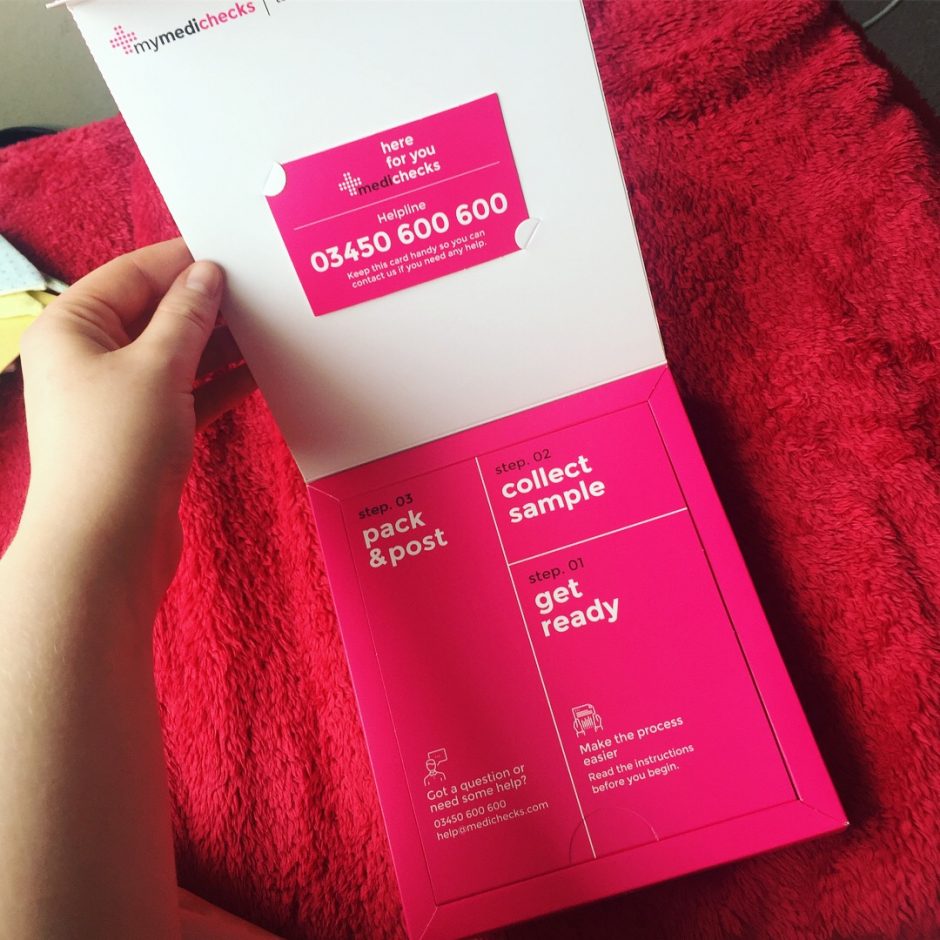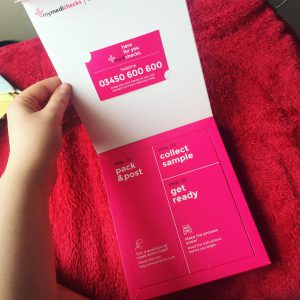 My test was checking a whopping twenty-three things, so I was surprised that I only had two tubes to fill for all of these. There were simple instructions included on how to collect the sample and everything you needed to collect and send it back.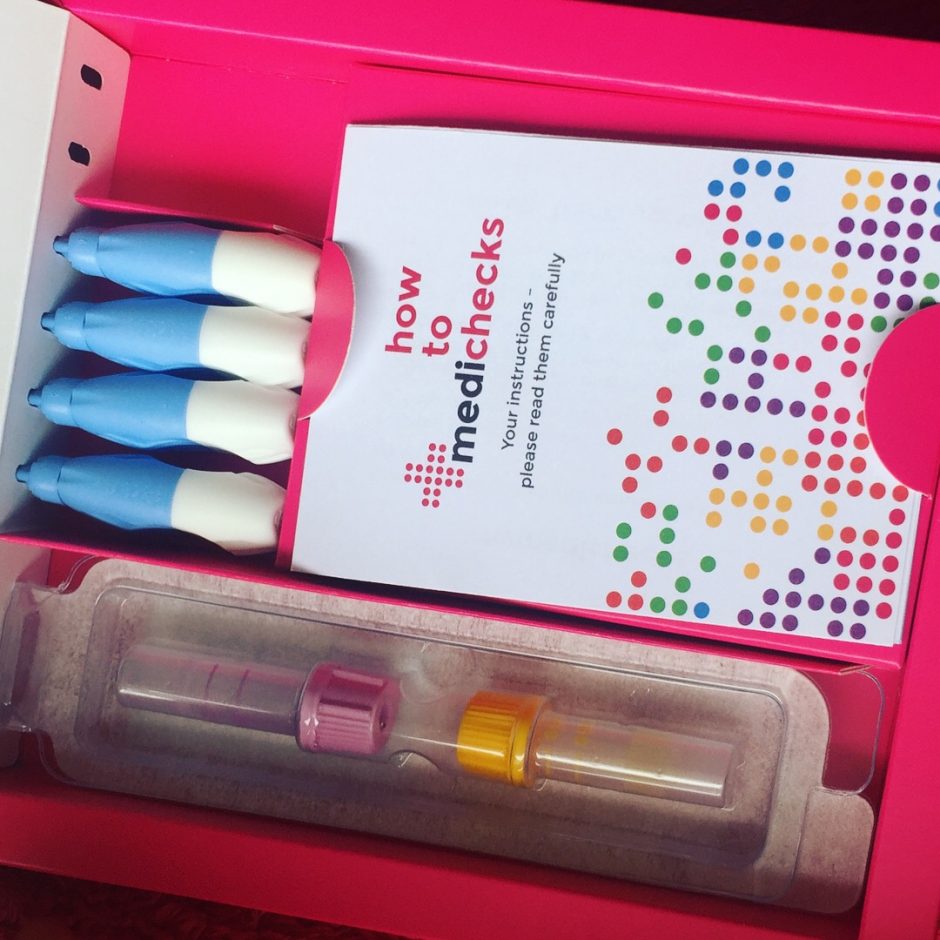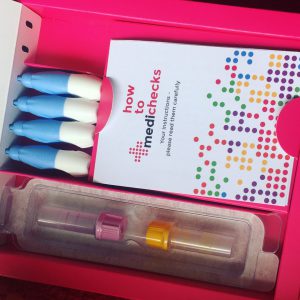 As the sample, once collected, needs to be posted on the same day for a next day delivery, it is recommended to do the blood collection on a weekday, though not Friday. I chose Monday which worked perfectly. Taking it in the morning, I then posted it on my way to work.
Now, finger prick blood tests can be a bit harder to obtain a sample from, so they include some hints and tips to help get the blood flowing. A warm shower or bath beforehand, ensuring you are well hydrated, standing up/letting the arm hang down and gently massaging the finger can all help. I followed all of these as my blood is awkward at the best of times!
Talking a cleansing wipe, I selected my first finger, wiped it clean and took one of the lancets. Pressing it on to my finger, there was the tiniest sting and then the first drop of blood presented itself. As instructed, I wiped the first drop away and then placed the tube under my finger to begin collecting my sample. I found it really difficult to hold the tube in place whilst also trying to gently massage my finger to encourage more blood droplets to form, so I called my other half to hold the tube for me after a minute or so. You could also stand the tubes up in the clever holes incorporated into the packaging if this helps.
After a few minutes, this finger slowed down on blood production so I used a second lancet to prick another finger. This time pressing it down harder, I got a much better result with quicker blood drops forming. My advice is to not be hesitant and just go ahead and give it a firm press. It really isn't any more painful than a paper cut, in fact, I barely felt anything.
I ended up using all the lancets and only just filled my tubes to the lines indicated. Inverting them gently ten times, I then filled in the labels for each, attached them and popped them in the free return envelope with order slip, before putting it in the post box. Then I logged in to my Medichecks account which is created for you upon ordering, to log that I had posted the sample back to them and filled in my profile that can help with the test results (questions on diet, exercise, lifestyle etc.). This took ten minutes or so. It was a pretty easy process to do and felt very comprehensive.
It's important to note that you shouldn't try to scrape the blood in to the tube like I did, as this can damage the sample.
And damage the sample I did!
After just two days, I received an email saying that my sample had been received and although some results were ready, some were incomplete due to damage done to the blood sample. I wasn't all that surprised to be honest with my manic scraping, but it explained that it's very common with first-time users. As with all customers, they offered to send another kit out free of charge to collect one more tube to finish the results (as they acknowledge that this can be a flaw of the finger prick test), or I could go to one of their centres to have a nurse draw the blood the regular way. Well, I figured I had nothing to lose in trying the finger prick sample again, so selected that option.
If it didn't work well I could then go get it drawn the usual way. At least I could do the finger prick in the comfort of my own home, which is a huge plus for people with chronic illness.
My second time around, I completed the sample as before, though was a lot more patient and gentle, then posted it back, logged it online again and received the rest of my results two days later. The whole process has been very efficient.
Presented in an easy to understand format, the My Medichecks personal dashboard is something I haven't seen with other online laboratories I've used. Usually others just send an email to you with your results in but this much more personalised.
Their resident doctors review your results and add commentary, so that you can form a plan moving forward. Here's an example of one of mine:
Hello Rachel,

Here are the results of your Tiredness and Fatigue Check Plus test. I understand that you have an underactive thyroid for which you take natural desiccated thyroid and that you have anxiety.

You have normal red, white and clotting cells.

Your ferritin is toward the lower end of normal. I recommend increasing your dietary iron intake (green leafy vegetables). Orange juice will help you absorb dietary iron better. Over the counter lysine supplements can also help with this.

You have low thyroid stimulating hormone with normal free thyroxine. Thyroid stimulating hormone can be lower when taking natural desiccated thyroid, for a complete picture I would recommend checking your T3 levels as well.

You have very good vitamin B12 levels.

Your vitamin D level is normal.

Dr Sam Rodgers
MBBS MRCGP
This is an added bonus and very much welcome, so that I can form a plan of what may help me moving forward.
After completing my second sample, I then received a second one reviewing the other tests and results.
As well as commentary from a doctor, they also provide the test results in the traditional format where you can download a copy to take to your regular doctor for adding to your medical records or just keeping in your own files at home. They can be taken to your doctor to demonstrate any need for further treatment and build on your current treatment plan.
Included in the dashboard area, you can also see a chart easily comparing results, allowing you to see any changes in levels after each test. For example, if I was to test my ferritin levels with Medichecks again, I can see all results side by side so I can follow how they may be improving or dropping over time,
This test would normally cost £99, but was complimentary for me on this occasion.
What if this all sounds great, but you're worried you're not going to bleed enough?
If you struggle even when a phlebotomist/nurse tries to draw your blood, then the finger prick test might not be ideal, but by all means you can still give it a go. The nurse often struggle getting blood out of me!
If you have too many tubes that need filling for your test (they'll tell you this when you order), then they will not send out a finger prick test as you'll struggle to fill them regardless of blood flow, but there are some other options instead.
You could ask a local phlebotomist if they will draw the blood for you, such as at your local GP surgery. I've used this in the past when ordering from somewhere else who didn't have the finger prick option. Medichecks will send you the right kit for this option if you let them know at the time of ordering. You can also use one of Medichecks' own clinics to have your blood taken for an additional fee of £25 or they can send a nurse to you.
Common tests for thyroid patients that you may wish to explore include the all important thyroid function test, cortisol and thyroid antibodies.
Have you used Medichecks before?
You can click on the hyperlinks in the above post to learn more and see references to information given.